Powerful Presentations: Perfecting Your Public Speaking Skills
---
900 7th Street, NW. Hosted by Akridge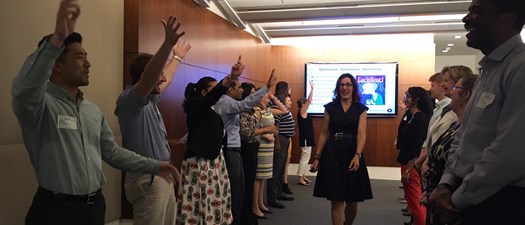 Don't miss this terrific professional development opportunity!
POWERFUL PRESENTATIONS: PERFECTING YOUR PUBLIC SPEAKING SKILLS
Thursday, June 8 - 8:30 to Noon at 900 7th Street, NW, hosted by Akridge
All members at all levels are encouraged to practice your critical public speaking skills! See details below.
Take advantage of this well-reviewed program that is highly interactive and will help make your presentations more enjoyable for you and your audience!
Expert instructor: Mary Abbajay, Careerstone Group. Members: $150 ; Non-members: $175
Registration is first come, first served. Associates: please limit to 5 per company.
PLEASE NOTE OUR REFUND POLICY: For all AOBA educational programs, AOBA requires advance notice of at least 48 hours for refunds. We understand that last minute circumstances occur; if they do, please consider your registration fee as a contribution to AOBA's industry education programs. Thank you!
More about this popular seminar:
Careerstone's interactive, engaging, and fun Powerful Presentations workshop provides the essential skills and sensibilities that every presenter needs to become an excellent
and effective communicator. Whether you are a seasoned presenter or a first-time"newbie" this workshop will provide timeless tips, tools, and techniques to enhance
your presentation skills, confidence, and impact. These presentations skills will last a lifetime!
Participants learn to:
• Present with confidence and power
• "Take their space" with authority and poise
• Craft and deliver messages that can be "heard" and are audience appropriate
• Harness the power of body language
• Learn the principals of connecting with an audience large or small
• Appreciate the power of verbal and non-verbal communication
• Exude confidence, professionalism and gravitas