Enjoy a great day on the links as you connect with hundreds of your friends, colleagues, and associates at the annual AOBA Golf Tournament. The Tournament, which will be held at the historic Woodmont Country Club in Rockville on September 16, is an established industry highlight featuring friendly competition on a lush course. After an enjoyable day of golf, a premier networking reception and the awards ceremony will feature a live band, open bar, food, and raffles.
Schedule of Events: Monday, September 16, 2019 | Woodmont Country Club in Rockville, Maryland.
9:00 A.M. – Self Park / Registration & Breakfast, Clubhouse
9:00 AM – Practice Driving Range open
10:15 A.M. – Golfers, assemble in the cart area. New in 2019 - Golfer's scores are recorded and posted live until 16th Hole. Last three holes are recorded on scorecards.
10:30 A.M. – Tee-off, Scramble Format and Best Ball
11:30 A.M. – 2:00 P.M. Barbeque Lunch
3:30 P.M. – Tournament Ends/Turn in Scorecards – Deadline 4:00 P.M. SHARP
4:00 – 6:00 P.M. – Reception/Awards Ceremony, Clubhouse Patio
Open Bar beverages are available at the beverage stands along with the specialty contests and activities throughout the tournament.
For event information and sponsorship opportunities, please contact Jeanne Clarke, JClarke@AOBA-metro.org or 202-296-3390, ext. 761
---
---
Last Year's Results -- AOBA 2018 Golf Tournament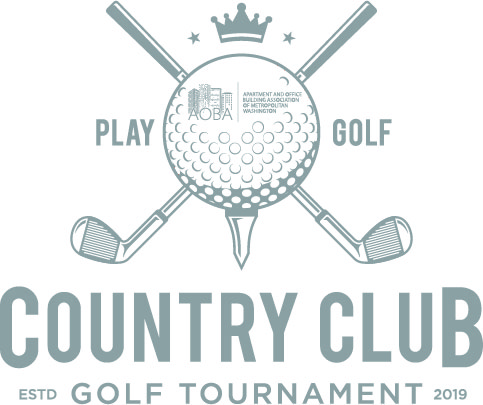 Held September 17, 2018 Woodmont Country Club
Although the golfers' green time was cut short due to the hurricane rain, the camaraderie continued while everyone enjoyed the awards presentation, delicious food, open bar along with the talented Timmie Metz Band.
Click here to see more golf photos, and a list of the event winners and runner ups.
Scramble Division:
Champion – Dustin Johnson Flight: Brian Alford, Justin Duffie, Chris Kelly, Nick Sorkin, Grady Management Inc.
Runner Up – Dustin Johnson Flight: John Carroccio, J.S. Carroccio Landscaping; LLC Chris Love, ZOM Development; Kenny Hewitt, Shoosan Company; Jake Emerson, Eagle Bank
Champion – Stacey Lewis Flight: Billy Manders, Michael Manders, Matt Manders, Jim Bourassa, Manders Decorators
Runner Up – Stacy Lewis Flight: Adam Hibshman, Valcourt, Chad Attillis, Gables, Dan Wynkoop, and Guest, Valcourt
Champion – Rory McIlroy Flight: Desi Bernard, Kevin Reed, Lesley Morrison, Zach Lese, Busy Bee Environmental Services
Runner Up – Rory McIlroy Flight: Eric S. Francis, Howard S. Abramson, Louis Kovalsky, Carl Swafford, The CBMC Group
Best Ball Division:
Champion – Jordan Spieth Flight: Jeff Garner, Bryan Sebonya, Paul Davis, Don Patch, AOBA Alliance, Inc.
Runner Up – Jordan Spieth Flight: Dave Taylor, Shannon Smith, Lindsay, Dixon, Sam DiPhilippo, Fireline Corporation