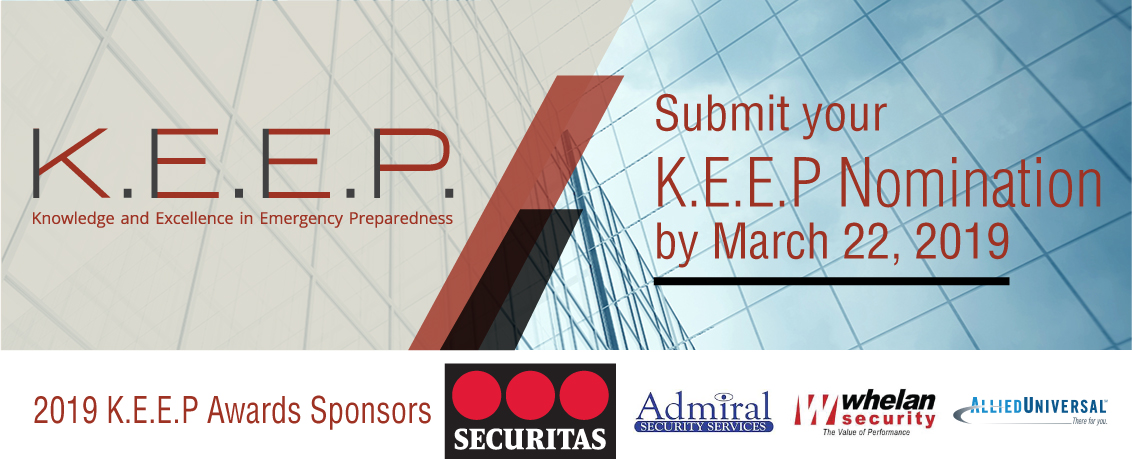 Developed in 2016 by the AOBA's Emergency Preparedness Committee, the K.E.E.P. Awards program is designed to encourage AOBA-member commercial property management teams to have effective emergency preparedness plans in place, and to recognize excellence in this critical arena. Nominations for this program focus on emergency preparedness planning for commercial office building teams in the Washington, DC metro area.
K.E.E.P nominations are due by March 22, 2019 and judging occurs in April by a panel of industry veterans. All engineer nominees will be honored at the Commercial Awards Celebration on June 13, 2019.
For 2019, the Awards will be presented in three categories. Please click on the award category to download the nomination form and send the completed form to Annabel Bendz at abendz@aoba-metro.org:
Please contact Annabel Bendz for KEEP Awards information including event sponsorship information.
---
K.E.E.P. Award Winners
2018
Cushman and Wakefield - 455 Massachusetts Avenue, NW, Washington, DC
MRP Real Estate Services Group, LLC - 3000 & 3050 K Street – Washington Harbour
Brookfield - 2001 M Street, NW, Washington, DC
2017
Brookfield – 1250 Connecticut Avenue, NW, Washington, DC, 2017 winner
Vornado/ Charles E. Smith – 1730 M Street, NW, Washington, DC, 2017 winner
Vornado/ Charles E. Smith – 2345 Crystal Drive, Arlington, VA, 2017 winner