2018 TOBY AWARDS RECIPIENTS
250,000 – 499,999 Square Foot Building
Fairview Park, managed by CBRE, Inc.
One Metro Center, managed by Lincoln Property Company
Wisconsin Place, managed by Boston Properties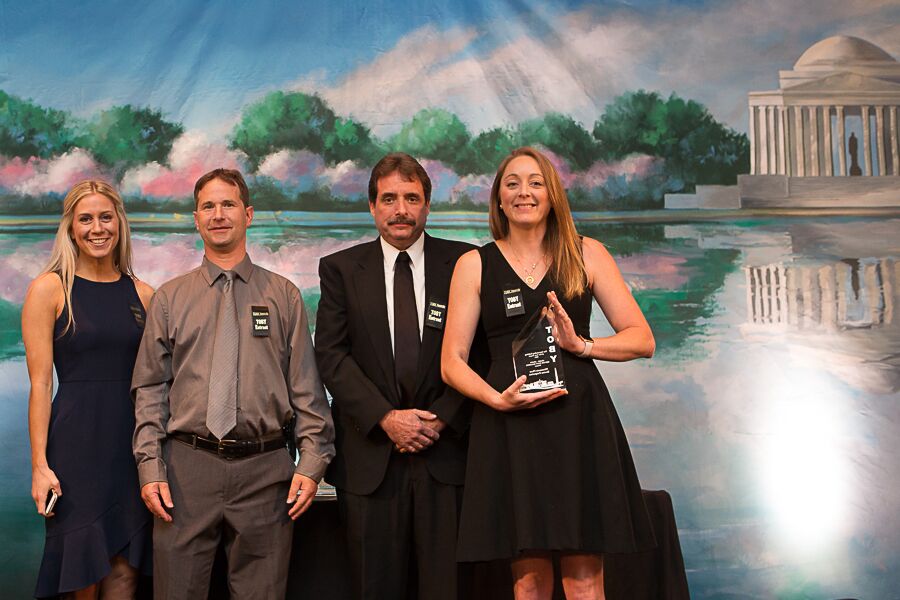 Rose Salla and her team at Wisconsin Place, Boston Properties
What's TOBY All About?
Now in its 33rd year, the Outstanding Building of the Year "TOBY" Award is the most prestigious and comprehensive program of its kind in the commercial real estate industry! It recognizes and rewards excellence in the office building management. Scroll down for 2018 information!
How Does the Award Process Work?
The competition consists of three levels of judging. Local BOMA Associations hold the first level of the competition. Winning entrants then advance to the regional level, and finally, regional winners advance to the international level. International winners are recognized at BOMA International's Every Building Conference & Expo in June each year. Have questions about the award process? Please contact Pam Oeler at 202.296.3390 or email Pam at poeler@aoba-metro.org.
What Aspects of a Building Are Evaluated?
All facets of a building's operations are thouroughly evaluated during the on-site building inspection and on-line portfolio judging. These include such areas as tenant relations programs, community involvement, emergency evacuation procedures, sustainability programs, preventive maintenance schedules, security issues, policy and procedures manuals and continuing education for building personnel.
What Types of Documents Are Submitted for Review?
Floor plans and photographs complete the regional portfolio, fulfilling an in-depth review of each TOBY entry. Each entry showcases outstanding property teams throughout the Washington area.
Scroll Down to Watch a New TOBY Awards Video! - It's at the bottom of this page and worth a watch!


TOBY Documents

---
2018 TOBY Sponsors
Gold Sponsors

---
Silver

---
Floral Sponsor
Blake Real Estate, Inc.
---
Seminar Sponsor
Akridge
---
Bronze Sponsors
Brookfield
The CBMC Group
Classic Concierge, Inc.
Derick Associates, Inc.
Healthy Buildings
JLL
Total Quality Building Services
---
Patron Sponsors
Boston Properties
Flynn Architectural Finishes, Inc.
MRP Realty
Stuart Dean Company, Inc.
---
Congratulations 2016 TOBY Regional Winners and Grand Overall Regional!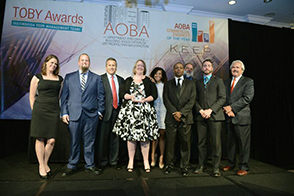 Suburban Office Park - Low Rise Category
Atlantic Corporate Park, managed by First Potomac Realty Trust LP
GRAND WINNER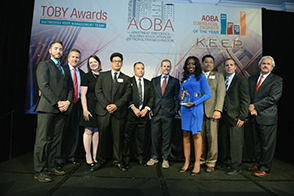 100,000 - 249,999 Square Foot Building Category
1750 H Street, managed by First Potomac Realty Trust LP
GRAND REGIONAL WINNER!
2017 TOBY Awards Recap
The 2017 TOBY Awards Celebration event was held on June 15 at the Fairmont Washington. More than 300 members were treated to a networking cocktail reception, dinner and presentation of the 2017 TOBY Awards, Commercial Engineer Awards, and K.E.E.P. Awards. Please see 2017 TOBY Sponsors listed below.
Photo credit: Mary Godier / Mary Elizabeth Creative
The following are 2017 local winners listed by award category:
100,000 – 249,999 Square Foot Building
Center for Strategic & International Studies, managed by CBRE
250,000 – 499,999 Square Foot Building
Crystal Gateway North, managed by Vornado/Charles E. Smith

Over 1 Million Square Feet
GRAND LOCAL TOBY Winner: U.S. Department of Transportation, managed by The JBG Companies

Renovated Building
Silverline Center, managed by Washington REIT
Historical Building
1101 17 Street, managed by Vornado/ Charles E. Smith
---
A Look Back at the 2016 TOBY Awards
AOBA congratulates the distinguished winners of the 32th Annual TOBY (The Outstanding Building of the Year) Awards. The winning management teams were honored on at a June 8th industry dinner at the Fairmont Washington, DC. Nearly 300 commercial property management professionals attended the event.
The evening also featured the presentation of the 2016 Commercial Chief/Lead Engineer of the Year Award to Luis Miranda, Vornado/Charles E. Smith, and the 2016 Commercial Building Engineer/Maintenance Technician Award to Dwayne Walker, S.C. Herman & Associates.
In a first-ever addition to the TOBY program, the K.E.E.P. Awards were launched. Developed by AOBA's Emergency Preparedness Committee, this new award program is designed to recognize "Knowledge and Excellence in Emergency Preparedness." 2016 K.E.E.P. Award recipients are: 1200 K Street - managed by Brookfield
1875 Connecticut Avenue - managed by Vornado/Charles E. Smith; and 1101 17th Street - managed by Vornado/Charles E. Smith.
SPECIAL KUDOS: Congrats to Akridge's expert team from 700 Sixth St for winning a 2016 TOBY International Award, presented at the BOMA 2016 Conference in June of 2016.
Watch our TOBY Video (produced in 2017) to Learn More!