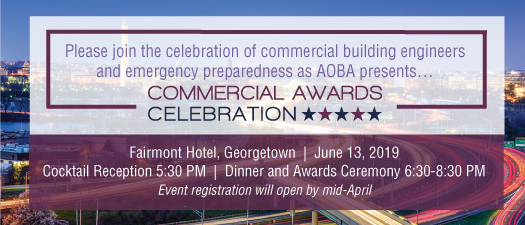 The annual Commercial Awards celebration brings well-deserved recognition to AOBA's talented commercial building engineers and emergency preparedness programs. Show your support of your fellow colleagues by attending this lively awards dinner. Registration will be available by mid-April.

2019 K.E.E.P. Awards have been expanded to three unique award categories. Developed by AOBA's Emergency Preparedness Committee, this award program is designed to recognize "Knowledge and Excellence in Emergency Preparedness." You'll find 2019 nomination forms for all commercial awards and deadline details on each page; pull down the About/ Awards tab.
Commercial Engineer of the Year Award. The Chief-Lead Engineer category is now closed. However the nomination deadline for the two other engineer award categories, Building and Maintenance Tech, has been extended to March 22nd.
You should nominate or submit! Gain invaluable visibility for your building and your staff, and acknowledge your team's strengths in the process. Please contact Meetings Manager Annabel Bendz, ABendz@AOBA-metro.org or 703.296.3390 ext. 763 for any event and sponsorship questions.