Maintenance MAYnia
Celebrate your maintenance professionals and strengthen your property teams by participating in Maintenance MAYnia!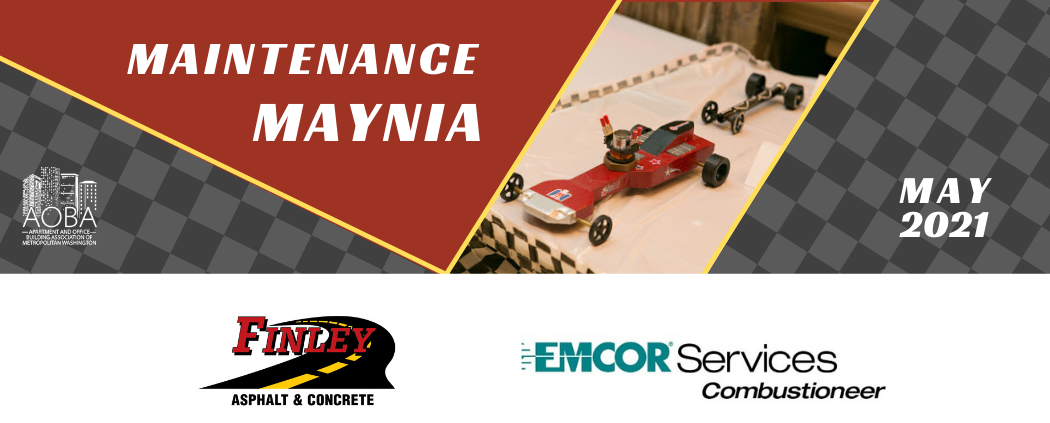 Join us for Maintenance MAYnia!
All maintenance professionals should block off Wednesdays @ 1:30 pm in May, culminating on June 2 for the awards show!
Instead of the traditional Maintenance Mania Competition, the Maintenance Mania Committee, led by Elisabeth Kirk with TRC Engineering and Boris Halstead with Southern Management Companies, transitioned to Maintenance Maynia - a jam-packed month of activities and events that celebrates our maintenance professionals and brings property management teams together while keeping everyone safe!
Workshops
---
Every week, there will be virtual workshops led by Maintenance Mania Committee Members. These workshops are unlike any virtual event or course you've attended! Our workshops are engaging and dynamic and full participation is required. Our amazing committee vendors are providing gift cards for active participation. We encourage properties to use these workshops as team-building exercises as well. There is even a prize for the company which sends the most staff to participate in these workshops! Register by clicking on the links below.
10 Ways to Save Time and Money with Preventative Maintenance

May 5, 2021

1:30 pm

Details/Register

Maintenance Escape Room: Can You Survive?

May 12, 2021

1:30 pm

Details/Register
Maintenance Career Panel: To be the future, you have to see the future

May 19, 2021

1:30 pm



Details/Register
Sponsored by:

Derby Day
---
On May 26 at 1:30 PM, join us live on Facebook for Derby Day - an epic race car competition featuring cars built from only maintenance parts. Watch them fly a pinewood derby-style track. Hefty cash prizes will be provided to the winners!
HOW TO ENTER:
Watch this training video to learn more, featuring our very own Jorge Blanco Multi-Maintenance Mania Champion and NAA Maintenance Mania Hall of Famer
Download these specifications to ensure your car is built correctly. Double and triple-check your plans to ensure you meet parameters!
Register online by May 1 to receive your wheels in the mail, limited to 50 participants.
Committee Members will pick-up your car at your property during the week of May 10 or 17. Or, you can drop your car off at AOBA's office on Thursday, May 20 from 9 AM - 4 PM.

We will be taking pictures of your car, you with your car, and potentially recording a video of your property/teammates cheering for you.
We will incorporate these pictures/videos throughout the awards show on June 2 at 1:30 PM. Tag any posts you make with this hashtag: #AOBADerbyDay
AOBA members will have the opportunity to vote on their favorite car - winners will receive a hefty gift!

Committee Members will deliver your cars to the race track on May 26.
HOW TO TUNE IN:
Beginning at 1:30 PM, you can tune in on AOBA's Facebook to watch your car race and cheer on your fellow colleagues. We will try to produce a schedule in advance, so you have a better understanding of when your car is racing.


Maintenance Mania Awards
---
In the first week of June, the Maintenance Mania Committee is hosting a virtual awards show to recognize our region's exemplary maintenance professionals and service teams. During your next meeting, discuss applying or nominating a colleague for these awards, before the deadline of May 1, 2021. You can apply or nominate online via or by submitting the PDF to Brandy Peak. The questions on the PDF are the same online. External judges will review the submission and score the award applications. Winners will be announced live during the virtual awards program on Wednesday, June 2 at 1:30 pm!
Maintenance Technician of the Year
Maintenance Supervisor of the Year
Regional Maintenance Supervisor of the Year
MacGyver of the Year: The person who can repair anything in an improvised or inventive way making use of whatever items are at hand.
Rookie of the Year: Under two years of experience
MVP of the Year: the best team player who always puts the team first
Best Service Team of the Year
Apply by May 1, 2021!
Thank you to all of our amazing maintenance professionals
and our generous sponsors!
Thank you Maintenance Mania Committee!
---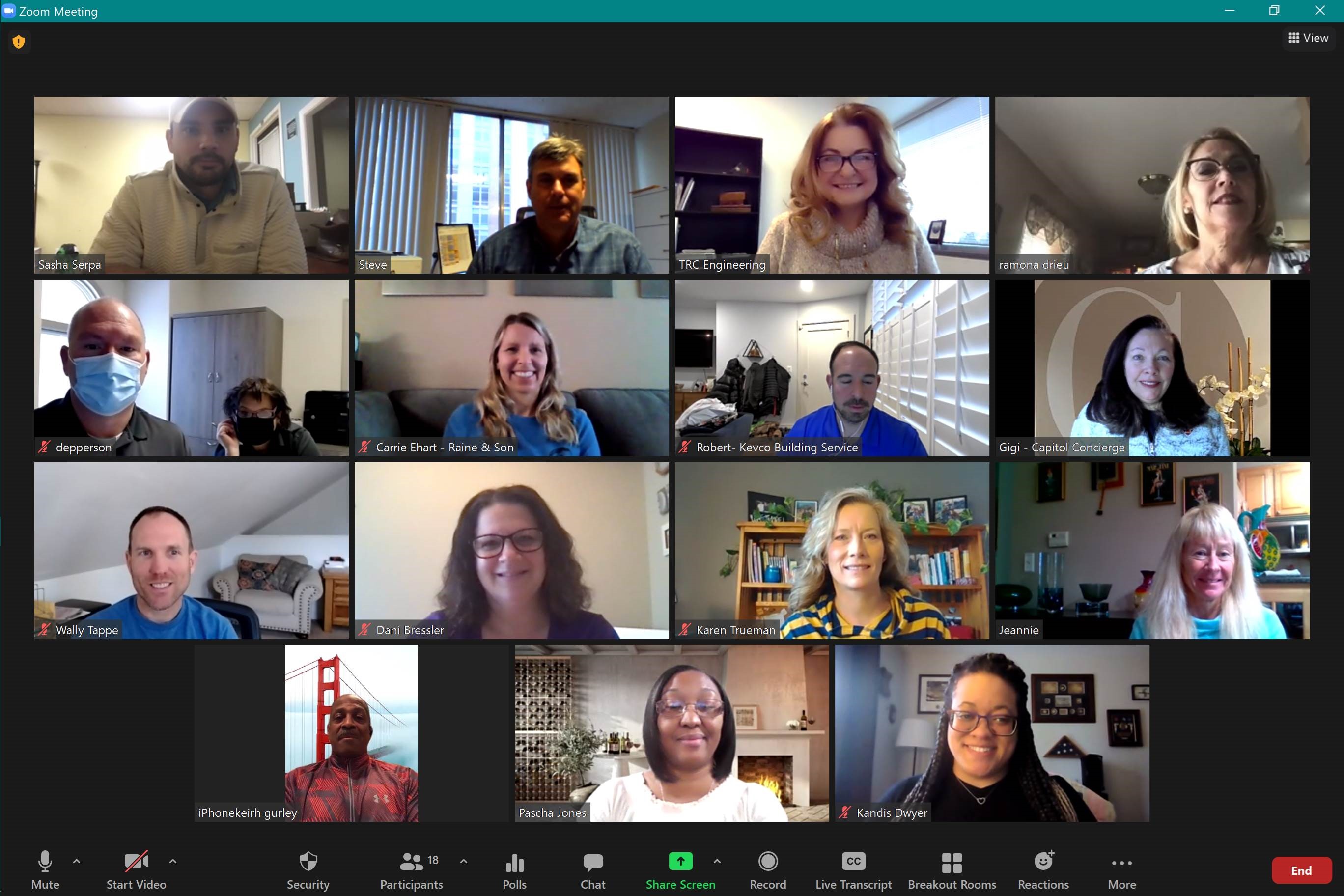 Boris Halstead, Southern Management Companies LLC
Carrie Ehart, Raine & Son, LLC, Plumbing & Heating
Dani Bressler, Toepfer Construction Company, Inc.
Dwayne Epperson, Legend Management Group
Elisabeth Kirk, TRC Engineering (Chair)
Gigi Galbraith, Capitol Concierge, Inc.
Jorge Blanco, Kettler Management
Kandis Dwyer, CertaPro Painters of Arlington
Karen Trueman, Legend Management Group

Karen Trueman, Legend Management Group
Keith Gurley, Daycon Products Company
Kelly Murray Acadia, Windows & Doors
Larry Edmonds, Capitol Pest
Ramona Drieu, Servpro of Rockville-Olney
Robert Cohn, Kevco Building Services, Inc.
Sasha Serpa, Quality Air Services
Steve LoVecchio, Kay Apartment Communities
Wally Tappe, HD Supply
Sponsorship Opportunities
---
Sponsor Maintenance MAYnia to connect with residential and commercial maintenance professionals and teams throughout the DC region.


Maintenance MAYnia Supporter: $850 - As a Maintenance MAYnia supporter, your logo will be featured on all Maintenance MAYnia programs.
Educational Sponsor: $1,000 - As an Educational Sponsor, your logo will be featured on all three courses throughout the month of May and you will be able to speak about your product/service to all attendees.
Award Sponsor: $1,200 - As an Award Sponsor, your logo will be featured on all three courses throughout the month of May and you will be able to speak about your product/service to all attendees.
Derby Day Sponsor: $1,500 - As a Derby Day Sponsor, you will be featured on all marketing materials and you can speak to your product/service during Derby Day
Maintenance MAYnia Sponsor: $1,700 - As a Maintenance MAYnia Sponsor, your logo will be featured throughout the month of May, plus you will have several opportunities to speak to all attendees throughout the month.