Wednesday, October 7, 2020
The Federal Clean Air Act, Section 608, requires anyone who services, maintains, repairs or disposes of appliances and equipment containing regulated refrigerant be certified in proper refrigerant handling techniques. The EPA also restricts the sale of regulated refrigerants to certified technicians only. Technicians who violate these provisions may be fined, lose their certification, and may be required to appear in Federal Court.
This certification course includes four sections for the first-time test-takers and second-time test-takers in the community:
Section 1 reviews environmental issues surrounding the impact of Class I and II refrigerants
Section 2 covers the test and instruction for systems with less than 5 pounds of refrigerant (Type I certification)
Section 3 includes the test and instruction for high-pressure refrigerant such as HCFC 22 including split-system air conditioners (Type II certification)
Section 4 contains the test and instruction for systems that use a low-pressure refrigerant such as CFC11 (Type III certification)
Re-Testing Requirement: Test-takers are required to bring proof of previous scores to the re-test. Applicants may re-test three times before instruction is required.
There will be a closed book exam at the conclusion of the course.
Prep Manual
To prepare for your exam, it is important that you study some on your own before the class. Please download one of the Prep Manuals below to review. Make note of any questions you may have.  This will help your instructor cover what you most need reviewed or better explained in the class time.
Practice Exams
It is also helpful to take these free practice exams before your class. Everyone who completes all four practice tests (at least once) prior to class will get a prize!
Instructor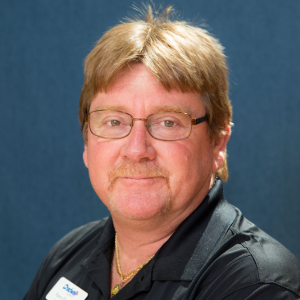 Vann Flippen
Trainer
Vann Flippen brings a depth of knowledge and insight from his 20 plus years in property management. He has held a variety of positions in multi-family, beginning in Orlando as a maintenance director where he developed the understanding that training was the key to success. Vann successfully established new training programs for Concord Management for 300+ service technicians. Vann also managed capital improvements that were beyond site level. He also designed service development plans and conducted operation assessments. He reorganized in-house purchasing programs to be more effective and increase ROI.  During the past 6 years he has helped set up a very extensive training program at Chadwell Supply.
   - C.P.O. Instructor, Through the NSPF. 
   - EPA Proctor Through Esco Institute For section 608, and 609.
   - M.A.S. & M.R.S. (Mold Awareness Specialist, Mold Remediation Specialist)
   - NAAEI Faculty
Taught Classes for Florida State University for the Residential Design Program for Property Management.  Vann resides in the rural community of Geneva Florida where he enjoys hunting, fishing, and volunteering with the local Apartment Associations and affiliates. 
For More Information: