At Issue VA - When will Virginia return to the office?
Date posted
February 14, 2022
When will Virginia return to the office?
The impacts of the COVID-19 pandemic have permeated every aspect of our lives. We have been forced to adapt and pivot on many levels, but nowhere has that experience been more dramatic than the workplace. From shutdowns to the designation of essential workers to managing slow and inconsistent returns with social distancing, masks, and new cleaning and sanitization protocols, office properties continue to ride a roller coaster of unpredictability and unforeseen obstacles back to normal operations.

The shockwave of workplace shutdowns has sent ripple effects through the community, with long-term implications for local government tax revenues, placemaking in our downtown corridors, and the health and viability of ancillary and retail businesses who cater to and serve our weekday crowds.

So when can we expect Virginia to return to the office and what does the "new normal" look like?

AOBA examined current occupancy rates and trends and called on the observations of owners and managers of roughly 82 million square feet of commercial office space across nearly 400 office properties throughout the Washington metropolitan region. Here is what we found:


Office Occupancy remains low
Kastle Systems is a leading security provider in the commercial office sector. Through its "Back to Work Barometer," Kastle has been tracking keycard, fob and building access data to identify trends in how Americans are returning to the office.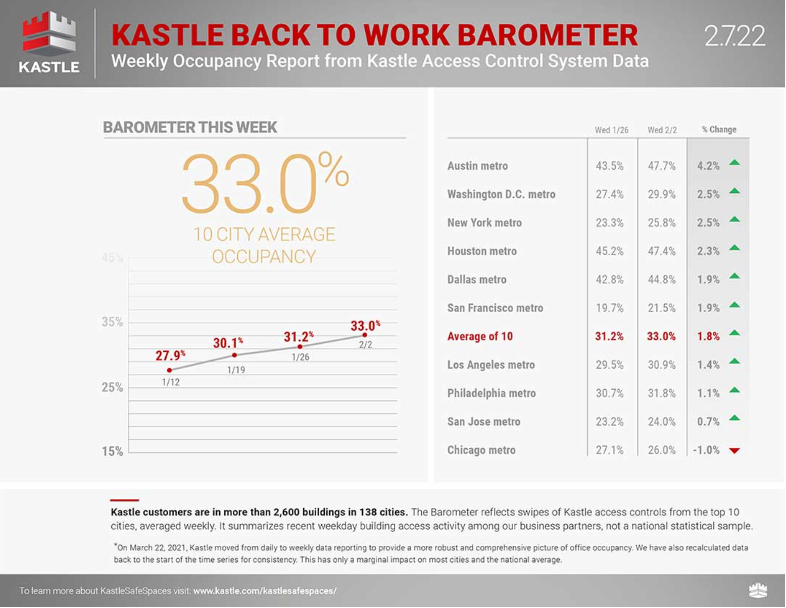 Consistent with other areas of the country, the Washington metropolitan region continues to see a slow uptick in the number of employees returning to the office. But current office occupancy remains low, at less than 30%.

Observations from property managers on current occupancy rates:
The 30% occupancy rate represents an average, but numbers vary significantly across the office market. According to those surveyed, some buildings with GSA leases or secured government contracting space have remained fully occupied since the initial shutdowns in 2020. Others have stayed below the 20% mark and have not seen the same incremental increases as other buildings.

The biggest indicator of occupancy levels is business type. For instance, the legal industry continues to outpace the broader commercial office average. In the Washington metropolitan area, law firms have returned to the office place at a rate of 44.4%. (This figure actually lags slightly behind the national average of 54.8%, but significantly exceeds general business occupancy levels). This is perhaps attributable to a niche ability to navigate compliance with workplace regulations and potential liability concerns associated with bringing employees back to the office.

Some property managers with whom we spoke additionally cited size as an indicator of re-occupancy, with smaller companies returning to the office at greater levels than larger firms.

Hybrid work options remain the norm and most building tenants still have employees working virtually at least a few days a week. Surveyed property managers observed less traffic in their buildings on Mondays and Fridays, accompanied by a mid-week surge in occupancy.


The Delta and Omicron variants set back return-to-work plans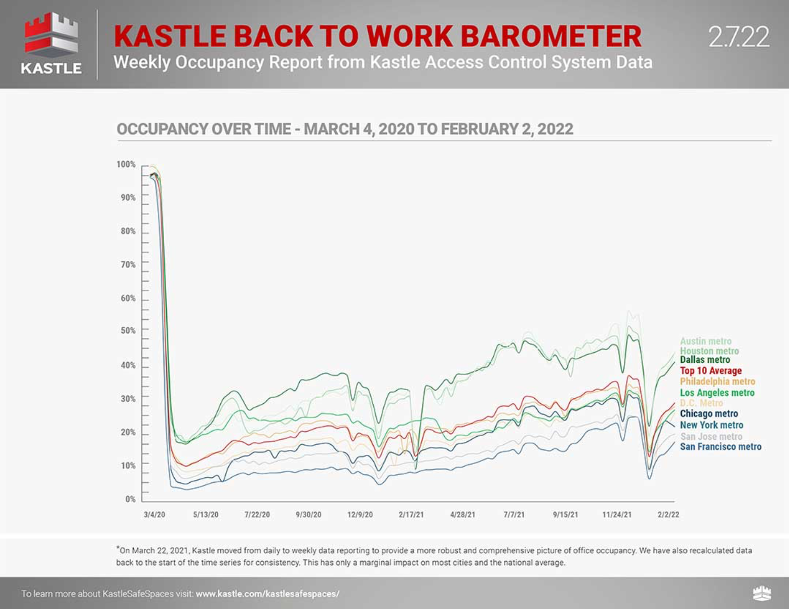 The recent surges in COVID-19 cases brought on by the Delta and Omicron variants had a significant impact on local businesses' plans to return to the workplace. While occupancy rates have begun to slowly trend back upwards, we remain far behind where we were just a few weeks ago. For context, twelve weeks ago, in mid-November, the national occupancy rate was 38.8%. That number dropped to 27.9% in mid-January, a decrease in occupancy of more than 25% in response to the Delta and Omicron variants.

Observations from property managers on the impact of the Delta and Omicron variants:
Surveyed property managers cited positive momentum coming into December 2021. Tenants were largely poised to begin a phased return to the office with the turn of the new year. In the face of surges in COVID-19 cases, however, occupancy instead fell to a one-year low. As one industry professional stated, "Omicron sent everyone home in waves."


When will occupancy rates return to pre-pandemic level?
There is no data set surrounding building tenants' plans to bring their employees back to the office. But owners and managers of commercial office buildings anecdotally point to late spring/early summer as the new projected timeline for tenant businesses to begin returning their workforces to the office in numbers approaching pre-pandemic levels.

Observations from property managers on the projected timeline for re-occupancy:
A great deal of uncertainty remains, and some cite that tenants are continuing to reassess plans on a month-to-month basis.

Overall, communications with office tenants indicate that there is a strong push to get employees back in the office. That said, businesses are being very careful to implement re-occupancy plans in a thoughtful and responsible manner. Property owners expect that businesses' return to the office will be slow and phased, and that masks, social distancing and vaccination requirements will remain for the foreseeable future.


Hybrid work options are here to stay, but will not replace in-person
work environments
"One thing that COVID has taught the conventional office user is that there is a certain segment of the workers in an office that don't need to come in five days a week." While policies will obviously vary from office to office, it is clear that telework arrangements and hybrid work policies will remain long after the pandemic has ultimately subsided. But this does not mean that businesses will no longer require a physical presence.

Observations from property managers on hybrid work options:
Drawing on conversations with their business tenants, office owners and managers expect that only a small percentage of employees in their buildings will be able to work from home indefinitely or only come into the office once or twice a week.

Out of necessity, the pandemic forced businesses to learn to function in a remote work environment. Organizational culture and collaboration have suffered, though, under the limitations of virtual platforms such as Zoom and Teams, etc. This is driving a strong push by employers in the region to bring their employees back into the office.

This conclusion is confirmed by a recent study conducted by the Building Owners and Managers Association (BOMA) International regarding the impact of COVID-19 on commercial real estate. This study, released in the second quarter of 2021, found that full-time remote work will not become the norm, but tenants do anticipate a clear shift toward hybrid work options. While the timeline for re-occupancy has been pushed back, respondents reported that the average number of people working in the office full-time would decrease from approximately 70% prior to the pandemic to 43% over the ensuing 12-18 months. Notably, they predicted that only about a quarter of the workforce (26%) would telework full-time or most of the time.
The same study found 78% of respondents recognize the necessity of the office, saying in-person workplaces are "vital" to operating their businesses. This figure actually grew over the course of the pandemic. Maintaining corporate culture and connectivity in a remote-only world was the top challenge cited by employers as a result of the pandemic.
What does all of this mean for the future of Virginia's office market?

The region's largest commercial office building owners and managers say that it's still too early to determine the long-term impacts of the pandemic on the office space market. But we have not yet seen significant retractions in tenants' demands for office space or changes in physical layouts. The significant presence of government agencies and contractors in Virginia, as well as its largely knowledge-based economy, have contributed to its resiliency in the face of a profound and sustained disruption in the marketplace. But recent guidance from the Office of Personnel Management encouraging permanent telework for all federal agencies is worrisome. GSA's Public Buildings Service Commissioner Nina Albert has indicated that "federal agency officials expect to reduce their office space needs anywhere from 20% to 50% following the pandemic." In late January, the Congressional House Transportation and Infrastructure Committee was made aware that 40% of GSA leases are set to expire over the next four years. GSA Administrator Robin Carnahan told the Committee that if funds were made available to repair federal buildings they could potentially move the affected agencies into Federally owned space.

Observations from property managers on market trends and office space demands:
Outside of the retail space, commercial property owners indicate that very few tenants have experienced real financial distress as a result of the pandemic. Tenant requests to restructure leases, minimize or give back space, or to seek abatement in rent have been minimal. Property owners have restructured some leases to reduce footprints and extend lease terms. But overall, they have not seen tenant demands for space recede significantly in the Northern Virginia market.

Similarly, commercial property owners have observed no significant change in office layouts or improvement plans. Prior to the pandemic, the industry trend was towards open, collaborative workspaces. Bullpens and lower cubicle walls became the norm as businesses sought to encourage increased communication and teamwork. In spite of the public health emergency, property owners have not observed any changes in tenant build-outs to increase distancing or add walls or partitions between employee workspaces. They have, however, reported increased usage of larger conference rooms and amenity spaces to allow for greater social distancing.

Some tenants have gone to short-term lease renewals to continue to assess their office space needs and the public health landscape in the face of ongoing uncertainty.

The "flight to quality" seen prior to the pandemic remains in effect. Elevated vacancy rates drove down per square foot asking rents. This enabled businesses to move from Class B and C properties into Class A and trophy office buildings. The COVID-19 pandemic has only exacerbated this trend. Those in the market for office space are demanding high-quality space, showcase lobbies and top-shelf amenities. Leasing professionals have observed this to be consistent across business sectors and across all submarkets. "The nicer the space, the faster it goes. The pandemic has drawn a distinct line between the haves and the have nots." As depicted below, Class A office net absorption (the sum of square footage that became physically occupied minus the sum of square feet that became physically vacated) has far outpaced that of Class B, C and F office properties, which has actually been negative over much of the last three years. This is forecasted to continue into the foreseeable future.



Class A Office Net Absorption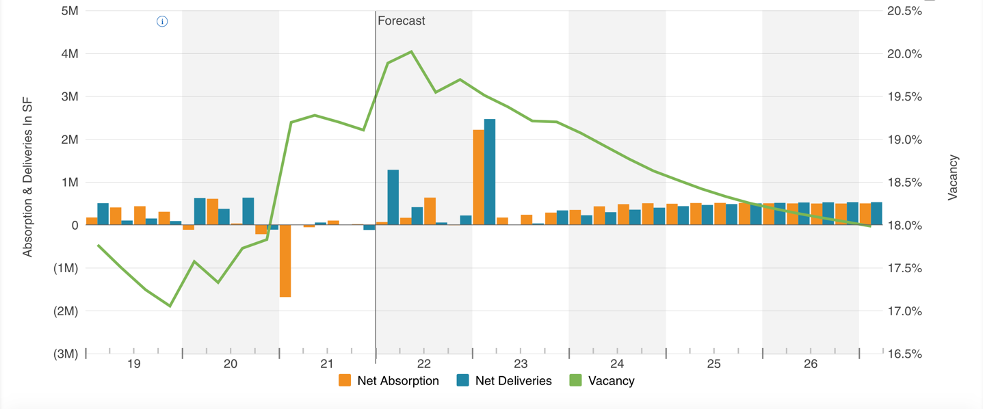 Class B,C,F Office Net Absorption


---
At Issue is compiled by the Apartment and Office Building Association (AOBA) of Metropolitan Washington, and is intended to help inform our elected decision-makers regarding the issues and policies impacting the commercial and multifamily real estate industry.

AOBA is a non-profit trade organization representing the owners and managers of approximately 172 million square feet of office space and over 400,000 apartment units in the Washington metropolitan area. Of that portfolio, approximately 69 million square feet of commercial office space and 169,000 multifamily residential units are located in Northern Virginia. Also represented by AOBA are over 200 companies that provide products and services to the real estate industry. AOBA is the local federated chapter of the Building Owners and Managers Association (BOMA) International and the National Apartment Association.
Along with input provided by AOBA member companies, the following data sources and references were used in compiling the attached report: AOBA strives to be an informational resource to our public sector partners. We welcome your inquiries and feedback. For more information, please contact our Senior Vice President of Government Affairs, Brian Gordon.