At Issue DC - Breaking Down One Dollar of Rent
Date posted
October 19, 2023
With rent levels dominating so much of the political discussion these days, there seems to be a prevailing misconception that housing providers are rolling in cash while residents struggle in our current inflationary economy. Contrary to this sentiment, the rental housing industry, which is predominantly made up of small "mom-and-pop" owners, operates on very narrow margins.

In July, we highlighted that rent is a trailing indicator of rising expenses and that housing costs continue to grow far beyond the rate of inflation. New data from the National Apartment Association (NAA) helps shed additional light on the breadth of expenses covered by rental housing providers' sole source of income. Utilizing data derived from the operating statements of federally mortgaged properties in the District of Columbia, NAA has released an updated analysis breaking down where a dollar of rent goes. The findings of this new report provide helpful context for policymakers to consider and illuminate the economic intricacies of rental housing that can easily be disrupted, jeopardizing the ability of rental housing providers to cover their expenses and in turn lead to a reduction in housing quality and quantity.


Breaking Down One Dollar of Rent


Mortgage Payments: $0.51
A significant portion (51 cents) goes directly to cover the property's mortgage, ensuring the property remains available for residents.

Operating Expenses: $0.34
From utilities to insurance and ongoing maintenance, 34 cents cover the essential operating expenses that keep properties safe, functional, and well-maintained. (See below for additional detail)

Employee Payroll: $0.02
Payroll for community staff, from property managers to maintenance teams, collectively accounts for 2 cents of every dollar of rent. Their hard work and dedication are what keeps every community thriving.

Property Taxes: $0.06
6 cents of every dollar of rent goes toward taxes, which finance community programs such as schools, emergency services, parks and other local services.

Capital Expenditures Reserves: $0.02
For future upgrades and significant repairs, owners allocate 2 cents to capital expenditures reserves. By doing this, they are future-proofing their communities and ensuring quality housing for their residents.

After financing costs, operating expenses, payroll, taxes and set asides for capital improvements, only 5 cents of every dollar of rent are returned to the housing provider. And only a small portion of this actually ends up in the owner's pocket. Investors gain primarily from the value growth of their assets. Thus, the bulk of this sum is generally reinvested into the property or leveraged to produce new housing.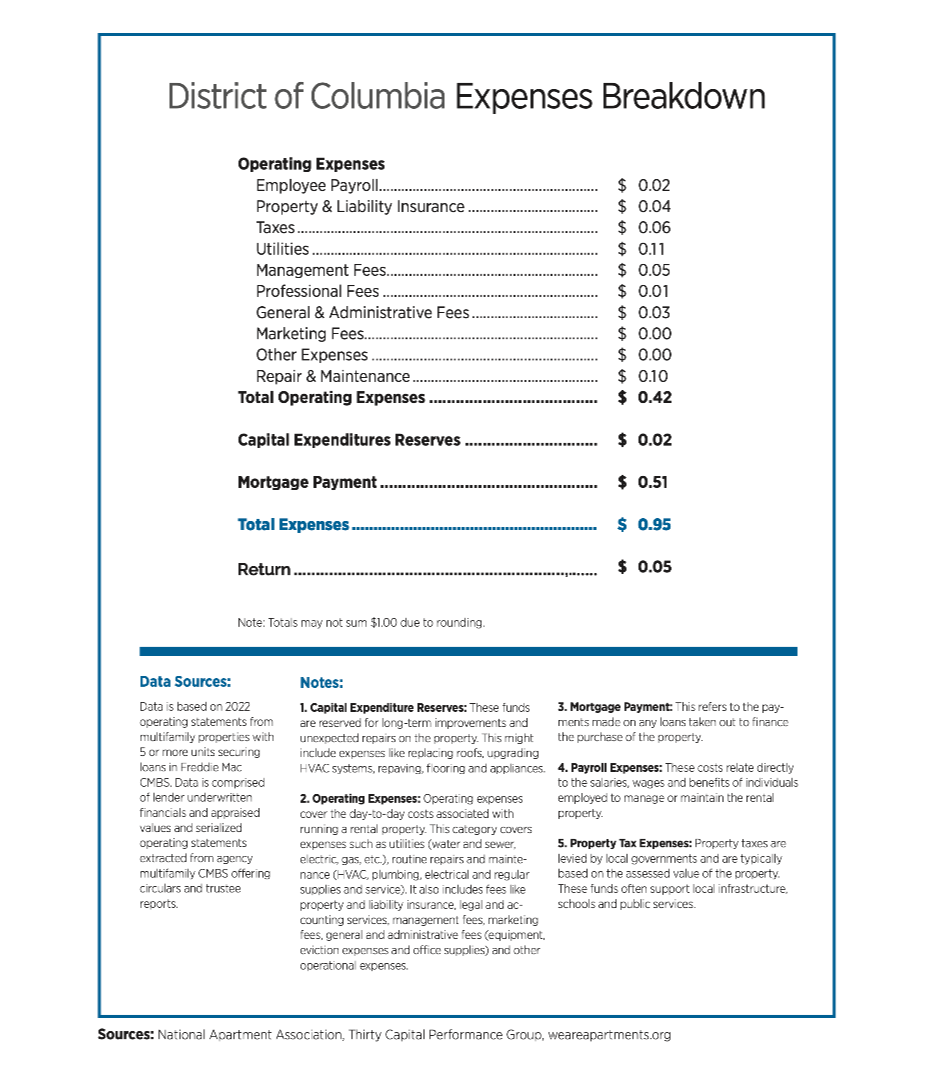 ---
At Issue is compiled by the Apartment and Office Building Association (AOBA) of Metropolitan Washington, and is intended to help inform our elected decisionmakers regarding the issues and policies impacting the commercial and multifamily real estate industry.

AOBA is a non-profit trade organization representing the owners and managers of approximately 185 million square feet of office space and over 400,000 apartment units in the Washington metropolitan area. Of that portfolio, approximately 80 million square feet of commercial office space and 94,000 multifamily residential units are located in the District. Also represented by AOBA are over 200 companies who provide products and services to the real estate industry. AOBA is the local federated chapter of the Building Owners and Managers Association (BOMA) International and the National Apartment Association.

Along with input provided by AOBA member companies, the following data sources and references were used in compiling the attached report:
Barbara Ballinger. "Multifamily Permits Down 32.2% From a Year Ago." Globe Street. August 29, 2023.
AOBA strives to be an informational resource to our public sector partners. We welcome your inquiries and feedback. For more information, please contact our Senior Vice President of Government Affairs Brian Gordon at bgordon@aoba-metro.org.