At Issue MD - Rents Continue to Decline at Record Pace
Date posted
December 15, 2022
Rents Continue to Decline at Record Pace
Rents declined for a third straight month in November. This according to the Apartment List National Rent Report, which tracks rental price trends in major U.S. markets.

November saw the national index fall by 1% - the largest single-month dip in the history of the index. This sharp drop in rents broke a record set just a month before in October, reflecting a greater cooling trend.

In total, rents are down 2.2% since August; the largest drop for any three-month period since 2010, excluding the 2020 lockdown. And according to RealPage's industry analytics, we can expect this trend to continue into the new year as rental market activity slows in the winter months. While a seasonal dip is typical, all signs point to higher-than-normal rent decreases.



The unique supply and demand challenges that drove rent increases in
2021 are easing



Demand for apartments soared in 2021, after being abnormally depressed by the unique conditions caused by the outset of the pandemic in 2020. When the pandemic began, households initially consolidated, with many renters moving back in with family to wait out the coronavirus. As a result, apartment vacancy soared to a high of 7.2% in the summer of 2020.

The market then tightened substantially in 2021, as those households re-formed at even higher levels. Many people who had previously shared living spaces with roommates, chose instead to live in single occupancy units as the public health emergency persisted. The ongoing shift to telework also forced many renters to incorporate workspace into their living space. At the same time, housing supply slowed as new housing starts declined precipitously, the cost of homeownership leapt dramatically, and soaring business costs applied even further pressure. All these factors combined to keep more people in the rental market, driving vacancy to a low of 4.1% last fall.

These pressures resulted in an extremely tight rental market in 2021 with more households competing for fewer vacant units, and rents rose as a result. But, household formation has slowed over the last year and new apartment construction has picked up, easing rent pressure in 2022.



A return to pre-pandemic trendlines


We should evaluate the rent increases in 2021 in broader context. Often lost in the conversation is that rents dropped significantly in 2020, and that rent growth is returning to its previous trend now in 2022. Absent such a disruptive and unprecedented economic event like the pandemic, renters likely would have seen more modest/gradual increases over the past three years. Instead, what we saw were higher increases in 2021 as the market attempted to catch up to its equilibrium point.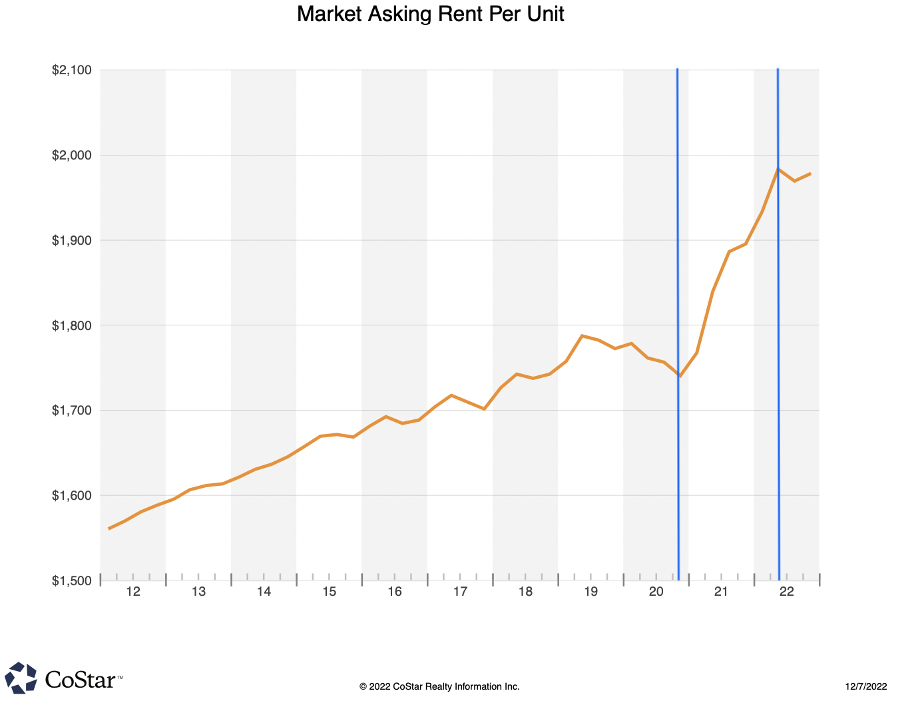 We now see the market returning into alignment with pre-pandemic trendlines, resulting in slowing rent increases, and even some rent decreases. The above chart, courtesy of CoStar, depicts asking rents in Montgomery County as an example. Chances are, if you spent any time tracking rent prices over the last 12 months through the media or other public information sources, you've likely been presented with figures reflecting just the data from the period inside of the blue lines. These numbers are significant. But they don't tell the whole story. Looking at the entire decade, we see that asking rents have returned approximately to where they would have been at the end of 2022, had the pre-pandemic trend continued without interruption.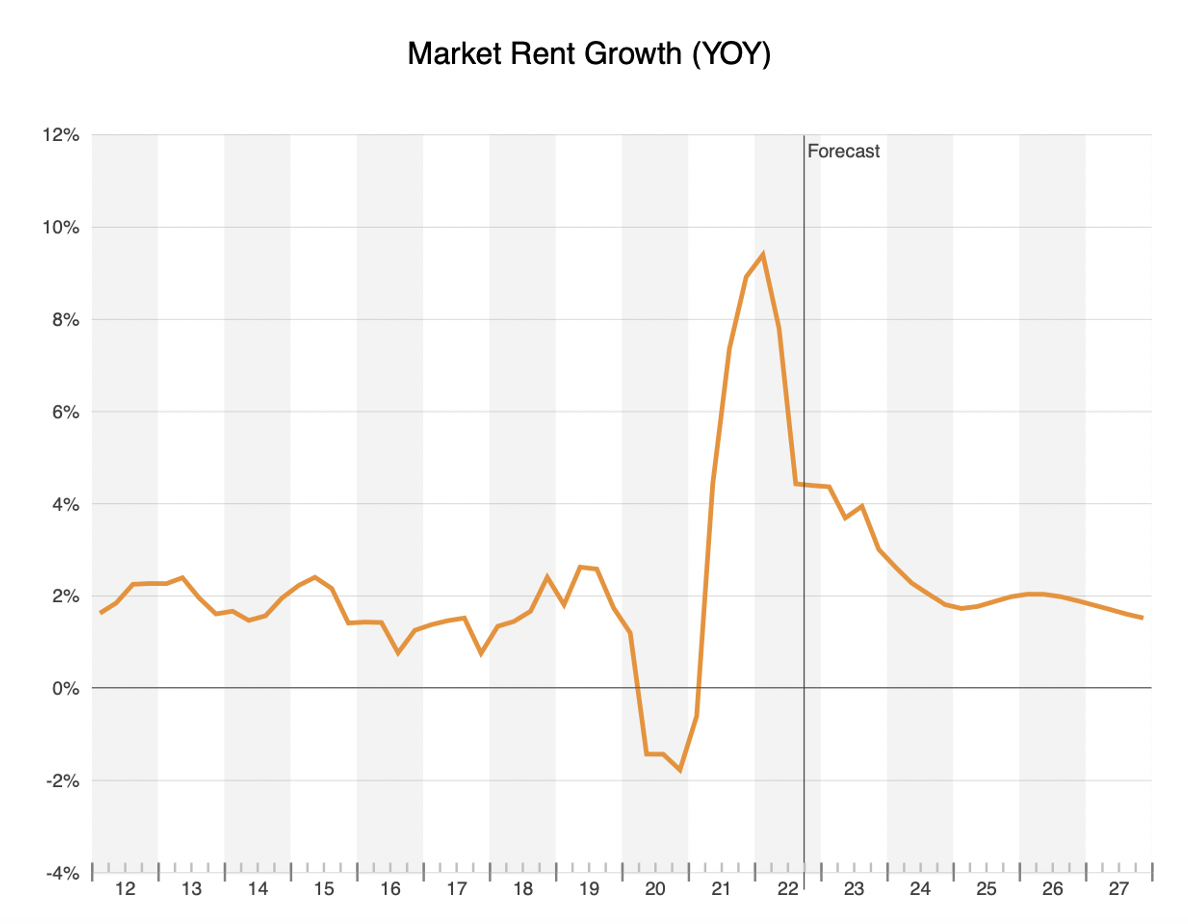 Shown differently, the second chart depicts rent growth over the same period. In spite of a tumultuous path, the market is forecasted to return to its pre-pandemic equilibrium in the next year. You can practically draw a straight line across the chart connecting the beginning and ending points.

It is important to note that this analysis includes rent increase figures for new lease rates only. Renewal leases, which comprise the majority of leasing activity, have generally trailed new lease rates by as much as 7-8%.



Increased Housing Supply is Needed


Despite this normalization, housing affordability remains a significant challenge for Suburban Maryland. It is a problem that existed before the pandemic, and which was only further compounded by the resulting economic fallout. Research shows that Maryland needs to add 6,000 new market-rate apartment homes annually by 2030 to accommodate demand. This increased demand is fueled by population growth (an estimated 16.32% increase in the number of households by 2030) and a higher propensity to rent. The only policy solutions to this dynamic are those that promote new housing development over the long term. Without such investment, our market will remain unbalanced and affordability challenges will persist.

---
At Issue is compiled by the Apartment and Office Building Association (AOBA) of Metropolitan Washington, and is intended to help inform our elected decision-makers regarding the issues and policies impacting the commercial and multifamily real estate industry.

AOBA is a non-profit trade organization representing the owners and managers of approximately 172 million square feet of office space and over 400,000 apartment units in the Washington metropolitan area. Of that portfolio, approximately 61 million square feet of commercial office space and 151,000 multifamily residential units are located in Montgomery and Prince George's County, Maryland. Also represented by AOBA are over 200 companies that provide products and services to the real estate industry. AOBA is the local federated chapter of the Building Owners and Managers Association (BOMA) International and the National Apartment Association.

Along with input provided by AOBA member companies, the following data sources and references were used in compiling the attached report:
Apartment List National Rent Report. November 29, 2022.
Jay Parsons. "Apartment Rents Fall Again in November as Leasing Traffic Remains Soft." RealPage Analytics. December 6, 2023.

CoStar Commercial Real Estate Data, Information and Analytics Service.

National Apartment Association, "Explaining the Breakdown of $1 of Rent." YouTube, April 9, 2020.
U.S. Apartment Demand through 2035. Hoyt Advisory Services. May, 2022.
Region United: Metropolitan Washington Council of Governments Planning Framework for 2030. Metropolitan Washington Council of Governments. March 9, 2022.
Maryland Housing Needs Assessment & 10-Year Strategic Plan. Prepared by National Center for Smart Growth and Enterprise Community Partners, Inc. for the Maryland Department of Housing and Community Development and local partners. December, 2020.
AOBA strives to be an informational resource to our public sector partners. We welcome your inquiries and feedback. For more information, please contact our Senior Vice President of Government Affairs, Brian Gordon.