At Issue MD - Situation Growing Dire for Maryland Housing Providers
Date posted
March 31, 2022
Situation Growing Dire for Maryland Housing Providers
The COVID-19 pandemic has taken a heavy toll on rental housing providers operating in Suburban Maryland. Many communities face enormous outstanding delinquencies that only continue to grow with each passing month. With a significant percentage of those delinquencies failing to qualify for rental assistance and court timelines exceeding a year in some cases, it appears that there is no relief on the horizon.

If things continue on their current course, Montgomery and Prince George's Counties face the very serious threat of losing rental housing stock. This danger is no more severe than amongst those market rate affordable properties that serve our local workforce.

AOBA collected data and surveyed members who own and manage apartment communities in Montgomery and Prince George's Counties, representing a collective portfolio of more than 26,000 multifamily rental units across the two jurisdictions. The results paint a scary picture for the industry as well as for those tenants who make their homes in rental housing.
Housing providers face staggering delinquency numbers driven by the
pandemic
The COVID-19 pandemic has brought about a seismic increase in rental delinquencies, particularly among those communities serving lower-income Marylanders. In some communities, as many as 70% of residents are behind on monthly rent payments. These numbers add up to tens of millions of dollars in back-rent ($29,676,281.99 just among the 17 respondent companies) being carried by property owners and management companies, creating a significant drain on the ability for housing providers to maintain and continue to provide the high level of service that residents demand.

As a general rule of thumb, the industry views a property with delinquency exceeding 20% to pose a serious risk to the viability of the community. This goes far beyond housing providers simply pocketing less money. Typically, only 9% of rental income goes toward "profit," and that assumes 100% occupancy and rent collection. Such substantial delinquency fundamentally threatens the ability of the housing provider to maintain the property, perform necessary capital improvements and even continue to operate long-term. Most AOBA members are sufficiently well capitalized to withstand the short-term impact of such an economic hit. Smaller housing providers, on the other hand, may not be. Over an extended period of time, these numbers are simply not sustainable and our community will face higher rents, reduced affordable housing stock, and decreased property tax revenues.
Most delinquencies don't even qualify for assistance
At most properties, the majority of delinquent tenants don't meet the qualifications for state and local emergency rental assistance. That is to say that for more than half of the delinquency totals cited above, housing providers are very unlikely to be compensated for the service that they continue to provide, and those totals continue to grow each month.

Many Maryland residents who could benefit from the ERAP programs fall just short of the income restrictions and are thus ineligible for rental assistance. With local coffers still full with federal funding earmarked for this very purpose, thousands of Maryland renters are being left behind and saddled with growing debt and the looming threat of being evicted from their homes.


ERAP programs are

painfully

inefficient and fraught with
inconsistency
For those tenants who do qualify for assistance, it can still take months for their applications to be processed. Housing providers cite wide variation in the efficiency and responsiveness of the Montgomery and Prince George's County Emergency Rental Assistance (ERAP) programs.

AOBA members with properties in Montgomery County cite a range of between 30 and 130 days between the time an application is submitted and when notice of funding and payment is received. Processing of ERAP applications takes significantly longer in Prince George's County, running between 2 and 12 months. Some members still have applications pending dating back as far as February 2021. Making matters worse, the programs have both been closed to new applications, in spite of having substantial funds still in the coffers. This effectively renders all new delinquencies ineligible for public assistance and likely uncollectible.

In January, AOBA wrote to County officials, documenting some of the systemic inefficiencies and inconsistencies housing providers have cited with the ERAP application review process:
There was inconsistency within the agency regarding the process or information being provided to residents and housing providers (i.e. housing providers were given different solutions to challenges; some reviewers would accept certain documents that others denied)

There is no way to review the progress of applications, feeding anxiety amongst residents who often move out before any determination is made

There is no communication to the housing provider when a resident submits an application, leading housing providers to continue communicating to residents about outstanding balances and filing for rental assistance


Impact on Operations
As we chronicled in January, the costs of providing housing are skyrocketing. Approximately 91% of rent collected goes directly to the cost of maintaining, managing and operating the property. This includes mortgage payments and interest, payroll for people who live and work in our towns and cities, real estate taxes, utilities, business licenses and other taxes, hazard and liability insurance, in-apartment routine repair and maintenance, contract services like waste collection, janitorial services, maintenance of mechanical systems, boilers, air conditioning systems and elevators, and fire suppression systems. This is not to mention replacement reserves for major repairs to windows, masonry, roofs, elevators, plumbing, electrical and HVAC. All of these line items have been growing at a pace beyond inflation for a decade and have experienced significant increases over the last year.

Unlike other industries, the folks who provide housing to our communities rely on rent as a singular revenue source, and do not have the ability to balance losses with other revenue categories. Properties with such significant numbers of tenants in delinquency will inevitably see rent increases, a reduction in services to residents or a deferral of planned capital investments.

Worse yet, many property management companies are faced with difficult questions from owners and investors in this environment. Some may be forced to sell properties to avoid defaulting on financial obligations. Others may consider doing so to avoid compounding losses.

In spite of such significant operational challenges and depressed revenues, property values are at an all-time high. To use one member example, a property currently operating at 35% delinquency (translating into substantial financial losses) could sell on the open market right now for a profit of roughly $12 million. This leads to pressure from owners to sell off assets. Investors coming into the market are often less invested in the community and will be forced to reduce costs in an effort to make the property turn a profit. This contributes to a deterioration of our housing stock. Even more likely in this environment is that new owners will consider converting rental housing into condominiums. This equates to an overall loss of our rental housing stock.


Court backlogs have left housing providers with no recourse
The sole avenue for recourse that exists for housing providers to seek remedy when a tenant fails to pay rent is through the courts. However, backlogs for hearing failure to pay rent (FTPR) cases in the Montgomery and Prince George's districts have effectively stripped them of any available remedy. The average wait for an initial hearing for an FTPR case is 7-9 months in Montgomery County and 8-12 in Prince George's County. This is confirmed by Evelyn Hodge, Vice President of Operations for eWrit Filings, LLC, which manages more than 20% of the court filings in Maryland for non-payment of rent cases. In a letter to the Senate Judicial Proceedings Committee in February, she cites that "Maryland's judicial system has been historically delayed during the pandemic. For example, in Prince George's County and, most recently in Baltimore City, eWrit has seen court hearings scheduled for more than a year after the date of filing…In Montgomery County, cases have been scheduled as much as 10 months after a filing during the pandemic. When courts reopen in Montgomery County, they will hear cases that were filed in June 2021. In Prince George's County, cases that were filed in February 2021 have still not been scheduled for a hearing." These figures are abysmal when contrasted with the court timelines for neighboring jurisdictions of D.C. and Virginia, where most cases are heard within 75 days.

In some cases, housing providers are forced to wait months before the court will even schedule an initial hearing. Often, a tenant's lease will expire before a hearing is scheduled, vacating the unit and leaving behind a significant arrearage, and making collection nearly impossible. Even so, this sum ultimately attaches to the tenant in the form of a financial judgment that will hinder their ability to secure safe and decent housing going forward.


Housing providers are not able to offset losses with market rent
increases
Inflation has significantly reduced Americans' buying power and salaries have not kept pace with soaring costs. This applies not just in the context of housing, but also to everyday items such as gasoline and groceries. The market simply cannot absorb the type of rent increases that would be required to keep pace with rent losses and new and increased costs. Indeed, rent increases locally lag significantly behind the national average. According to RealPage, a provider of multifamily real estate data and market analysis, average rent increases for lease renewals hover around 3.4% in local submarkets (with a few outliers likely attributable to new construction and special rent incentives offered at lease up):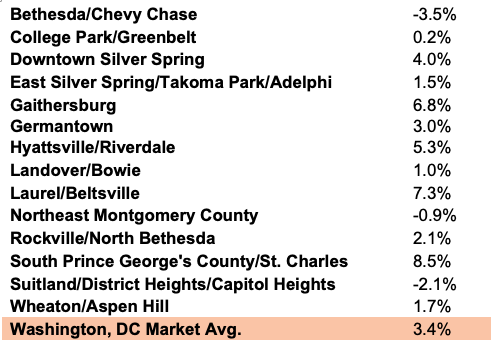 ---
At Issue is compiled by the Apartment and Office Building Association (AOBA) of Metropolitan Washington, and is intended to help inform our elected decision-makers regarding the issues and policies impacting the commercial and multifamily real estate industry.

AOBA is a non-profit trade organization representing the owners and managers of approximately 172 million square feet of office space and over 400,000 apartment units in the Washington metropolitan area. Of that portfolio, approximately 61 million square feet of commercial office space and 151,000 multifamily residential units are located in Montgomery and Prince George's County, Maryland. Also represented by AOBA are over 200 companies that provide products and services to the real estate industry. AOBA is the local federated chapter of the Building Owners and Managers Association (BOMA) International and the National Apartment Association.

Along with input provided by AOBA member companies, the following data sources and references were used in compiling the attached report:
Apartment and Office Building Association Member Survey on Rent Delinquency, ERAP Program and Court Backlog Experience Survey. March, 2022.

Dees Stribling. "The Race is on Between Multifamily Rental Increases and Inflation." Bisnow National, December 20, 2021.

CoStar Commercial Real Estate Data, Information and Analytics Service.

National Apartment Association, "Explaining the Breakdown of $1 of Rent." YouTube, April 9, 2020.

Evelyn Hodge, Vice President of Operations, eWrit Filings, LLC. Letter to Maryland Senate Judicial Proceedings Committee Chairman William C. Smith, Jr regarding Court Backlogs on Failure to Pay Rent Cases. February 16, 2022.

RealPage Multifamily Real Estate Data, Information and Analytics Service.
AOBA strives to be an informational resource to our public sector partners. We welcome your inquiries and feedback. For more information, please contact our Senior Vice President of Government Affairs, Brian Gordon.