Maintenance Mania Orientation
---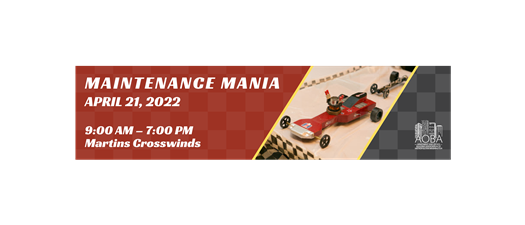 Join AOBA's Maintenance Mania Committee to hear the latest information about the Maintenance Mania Competition and Awards on April 21, 2022, including:


The local and national competitions
The individual games that will be at AOBA's Maintenance Mania
The specifications of your race car
Practice, cheerleaders, awards
And much more!
---
Maintenance Mania® is a national competition where maintenance technicians compete against each other in skill-based games built around common maintenance activities. Nearly 20,000 maintenance technicians have signed up to compete in Maintenance Mania® since the program's introduction. This fun sports event was developed by the National Apartment Association (NAA) to recognize and celebrate hard-working apartment maintenance professionals. The program allows maintenance staff to show off their expert skills and knowledge, and meet their peers from around the DC region. View the rulebook here.
The eight games to prove your maintenance skills during the Maintenance Mania competition include:
For More Information: