VAMA 2020 State Conference
---
Monday, October 26, 2020
at
9:00 AM (EDT)
to Friday, October 30, 2020 at 5:00 PM (EDT)
Virtual. Link will be sent a few days before the conference.
Category: Multifamily Education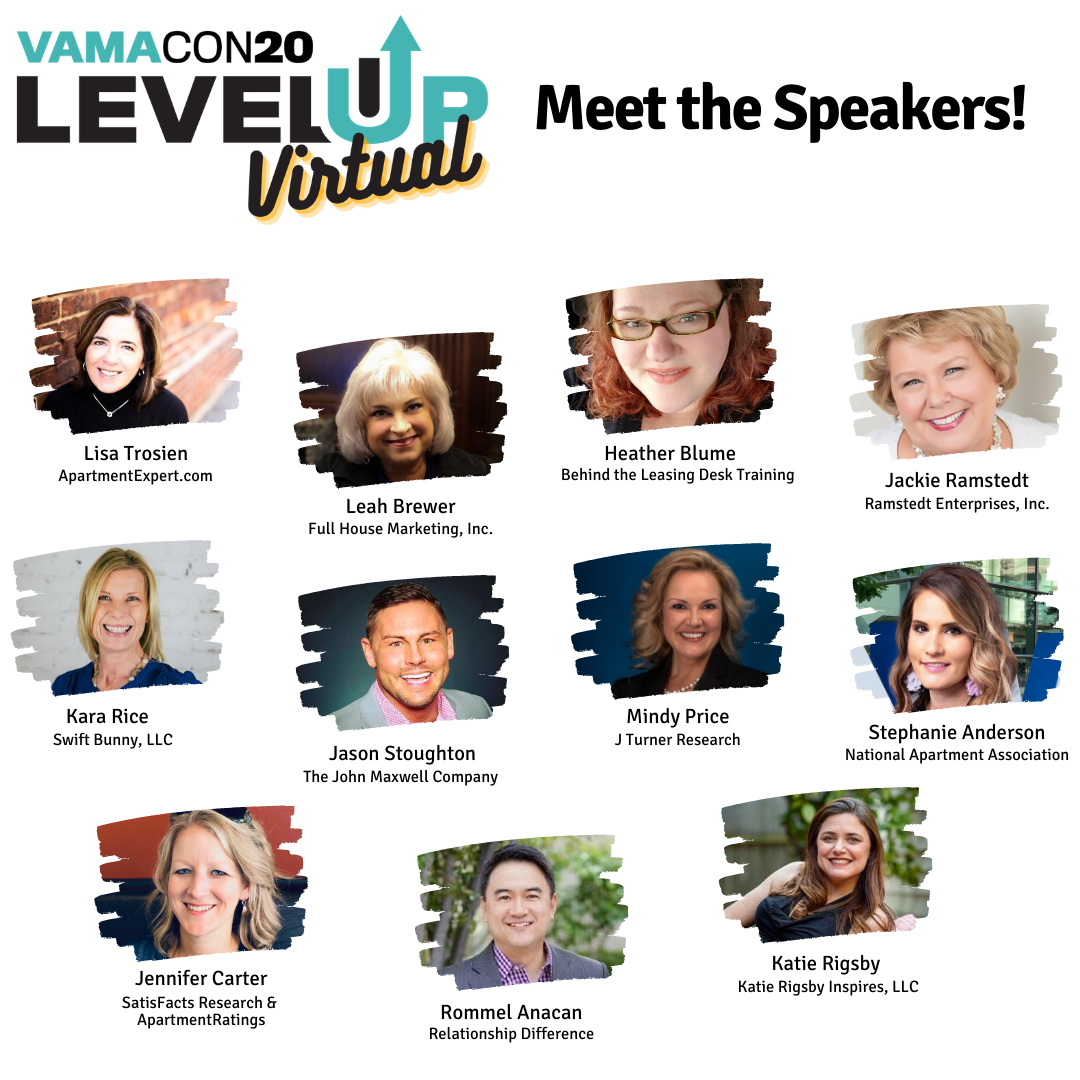 What's the Supplier Marketplace? All attendees will have access to the virtual conference platform on their computer to access everything the event has to offer. The schedule, sessions, zoom links, speakers, discussion boards, attendees, live chat with sponsors and the Supplier Marketplace. This is where attendees can go and visit to learn about a supplier company, their employees, watch videos and photos that have been provided by suppliers and also get contact information to connect. Some suppliers have even got creative and created/added a zoom link to their marketplace spot during conference hours where attendees can pop on and chat with your team members.
 Get to know our 2020 VAMACON Speakers!

 

 

Meet Rommel 

 

 

 

Rommel Anacan is an award-winning motivational speaker, entrepreneur, strategist, the founder of The Relationship Difference and a member of the famed Apartment All-Stars team! Rommel powerfully impacts people, companies and organizations by providing the clarity, inspiration and education they need to breakthrough their limits and achieve the success they desire. Some of the leading companies and organizations he has spoken for nationwide include Yardi Systems, Camden Property Trust, Lincoln Military Housing, Ellis Partners, Bainbridge Companies, Fogelman Management, The Dolben Company, Lincoln Property Company, Flir Systems, Sabra Foods, Trinity Multifamily, National Apartment Association, Texas Apartment Association, Building Industry Association, Manufacturers and Food Service Industry and many more. Rommel has the distinction of having the highest rated webinar EVER in the history of Multifamily Insiders and is a 2016, 2017 and 2018 Insiders Choice Award winner. Prior to founding his company Rommel had a very successful career in the multifamily housing industry where he developed a reputation for solving common industry challenges in uncommon ways. When he's not speaking, Rommel loves spending time with his family in Southern California; he is an assistant pastor at his church; and he serves as a member of the Civil Air Patrol-the U.S. Air Force Auxiliary. Learn more about him at www.RommelAnacan.com

 

Meet Stephanie

Award-winning property management professional, Stephanie Anderson, CAM, CAPS, was NAA Education Institute's Designate of the Year in 2015 and Certified Apartment Manager of the Year in 2013. With more than 13 years of multifamily experience, Anderson brings a wealth of knowledge to NAA as the Manager of Industry Operations. A graduate of Virginia Commonwealth University, she specializes in revenue management, creative marketing and employee development. Her articles have been published in Unit's Magazine and other national industry publications such as Operations Insight and InPaint Magazine. She holds a Virginia Real Estate License and is certified as a National Instructor for the National Apartment Association Education Institute. Anderson most recently was a Regional Property Manager for Drucker & Falk in Richmond, Va., since 2014 and spent the previous year as Director of Organizational Development in Virginia Beach, Va.

 

Meet Heather


 

 

Heather Blume has a contagious energy & passion that goes to the heart of the multifamily industry. Her work on site, combined with her work as a vendor, give Heather a unique perspective that enables her to assist those around her in creating their own successes. Currently, Heather is the Imagination In Charge of Behind the Leasing Desk Training & Consulting Services, where she specializes in meeting the specific needs of multifamily clients who may be experiencing challenges in different facets of the property management world. With over a decade of experience, she is an accomplished national speaker & trainer, having presented at such conferences at NAA, AIM, & Multifamily Pro Brainstorming. Additionally, her blog posts, podcasts, & articles are enjoyed by thousands of apartment professionals. A co-author of The Apartment All Stars Complete Guide to Leasing Apartments, her work has been seen in industry publications across the country, including UNITS Magazine. Besides holding her CAS designation, Heather is NAA Advanced Instructor trained & has been a member of the NAAEI Faculty since 2009, as well as a Washington Multi-Family Housing Association NALP &CAM/CAS instructor. Heather's blog, Behind the Leasing Desk, shares her ideas on everything in her corner of the property management universe. She travels with her service animal, MoonMoon - a dog specially trained to help Heather with her PTSD, and an animal whom Heather credits with, "Giving her life back to her." Heather provides an frank, educated, & objective point of view coupled with a sense of humor that is valued by her readers & clients.

 

Meet Leah

Leah Brewer, NALP, CAM also known as The Leasing Queen, has developed effective methods to increase apartment occupancies in her 30+ industry years, from a leasing consultant to a consultant for leasing. With battlefield experience in management, leadership and increasing occupancy and income, Leah ensures that the skills she teaches have been tested and tried first-hand. Her humor, passionate presentation and learning activities inspire attendees to learn, believe, retain and implement successful new ideas. Leah is Faculty of the NAAEI and a frequent presenter at the annual NAA Conference. She is the founder of the original Full House Marketing, the Apartment Skillbuilder Series and a partner in SkillbuilderOnline.com and the ApartMentors Talent Development group. www.FullHouseMarketing.com

 

 

Meet Jennifer

Jennifer Carter is the Director of Client Performance for SatisFacts Research and ApartmentRatings.com. Jennifer has 10 plus years of proven experience in Marketing and Training as a Director of Marketing for several property management companies where she has trained employees in industry best practices. Jennifer has spoken at events such as the 2018 NAA Education Conference, as well as many client conferences and co-hosts monthly free webinars for SatisFacts and ApartmentRatings.com.


Meet Mindy

Mindy Price, NAAEI Faculty, is a seasoned multifamily professional who has contributed to the industry in diverse roles for more than 20 years. Her experience includes property management, association management, property owner, supplier partner and educator. A prolific national speaker and emcee, Mindy has presented at numerous industry forums across the country. She also hosted the radio show "The Real Estate Round Table". The Houston Apartment Association has recognized her among the elites in their inaugural "40 under 40" group Mindy is the founder of The Bruce May Memorial Tournament which benefits the PTSD Foundation of America/Camp Hope and currently serves as the Vice President of Sales for J Turner Research.


Meet Jackie

 

Jackie Ramstedt is a nationally renowned, requested repeat Motivational Keynote Speaker, National Trainer, Consultant, and Performance Coach who has 30+ years' experience in the multi-housing industry. She has spoken to thousands of industry professionals on a national level for the National Apartment Association, Texas Apartment Association, Multifamily Pro Annual Brainstorming Events, the Institute of Real Estate Management (IREM), National Affordable Housing conferences, and numerous state and local Associations, including various management and investment companies throughout the United States and Canada. This is also Jackie's 15th consecutive year speaking with the prestigious Apartment All Stars Team national tours specializing in customer service, resident retention, leasing and management solutions. Jackie earned her CAM and CAPS credentials back to back and her CAS (Certified Apartment Supplier) credential whereby she was awarded the CAS Designate of the Year from her local Austin Apartment Association. Jackie is a veteran instructor of all NAA designation courses including NALP, CAM, CAS, CAPS, and IRO. Jackie was awarded the "Faculty Member of the Year" from her local Austin Apartment Association, where she has served on the Board of Directors and as Education Committee Chair. Jackie is also an accredited instructor teaching core and MCE courses for the Texas Real Estate Commission (TREC). Starting out on site as a part time housekeeper and weekend Leasing Consultant, Jackie continued to work her way up through the ranks building credibility through her advancements, while winning numerous performance awards, including Manager of the Year. She has worked as a National Marketing Director, National Performance Director, and National Training Director, and University Trainer for some of the nation's largest management companies. Jackie is an accomplished author and her articles have been featured in some of the industry's leading publications and most recently has co-authored the first Apartment All Stars Complete Guide to Leasing Apartments. Two of Jackie's newest endeavors have expanded to partnering with our industry's leading partners in education, the Multifamily Insiders for a series of "Live" and "On Demand" Webinar Wednesday show series and a newly formed partnership with seven of our industry's most respected and talented professionals, the ApartMentors focusing on employee engagement and talent development. Jackie's impressive clientele listing includes such national management and investment corporations as J.P. Morgan / Fleming of New York, Equity Residential, Archon Residential, Capstone Real Estate Services, CED- Concord, AIMCO, Gables Residential, Greystar Management, Corcoran Jennison Management., CWS Apartment Homes L.L.C., JES / Fairway Management Services, Walden, Camden, Home Properties, Inc., Berkshire Property Advisors, Winn Residential Management, Woodmont Real Estate Services, CLK Multifamily, Heartland Real Estate Investments, and Freeman Webb, to name just a few. Her energetic and enthusiastic speaking style makes her seminars fun and exciting with a "down to earth" approach to education. Jackie's "real world solutions for real world challenges" focuses on empowering others to reach their full professional and personal potential through "balance" in their lives while reminding us of the important role continuing education plays in the success of our performances. Remember, "Nothing is as contagious as ENTHUSIASM!"




Meet Kara

Kara Rice has spent more than 25 years in the multifamily industry in roles ranging from Leasing Consultant to CIO, with an emphasis on employee development. In 2019, she joined a team of innovators to launch Swift Bunny, where she serves as Chief Communications Officer. Previously, she co-founded Grace Hill where she oversaw the company's eLearning curriculum and helped create a work culture renowned for innovation, enthusiasm, and camaraderie. Kara is passionate about education, team performance, career satisfaction, and employee motivation. She is a frequent presenter at industry conferences and has taught numerous NAA designation courses including CAM and NALP. She is also a licensed FL real estate sales associate and owner of rental property. Born and raised in the Boston area, Kara now roots for the Red Sox from her home in South Florida where she and her husband are raising their three children and dodging hurricanes.

 

Meet Katie


A multi-family maven with 20 years of industry experience, Katie began her career as a leasing professional working her way through the ranks to become Senior Executive, fully responsible for a portfolio consisting of 3,000 units, two hotels, two shopping centers and nearly 200 employees. Today, as the President of Katie Rigsby Inspires, LLC, Katie shares her experience and expertise as an industry consultant and keynote speaker. She contributes to the industry by writing for magazines such as Rent & Retain, by serving on her local apartment association board, and as a faculty member of the NAA Education Institute. A Certified Apartment Portfolio Supervisor, Certified Apartment Manager and National Apartment Leasing Professional, Katie Rigsby couples her industry education with years of experience to deliver an engaging, informative and inspirational learning experience with a side of humor.

 

Meet Jason

With decades of leadership and training experience in various arenas, Jason Stoughton is uniquely positioned to share proven principles and practices that take your performance to a higher standard. He is a classic example of an underdog story, overcoming a dysfunctional and abusive home as well as rare health challenges through a combination of personal grit and Divine influence.

An accomplished speaker, coach and trainer, Jason has traveled the world to help thousands of individuals and organizations through values-based leadership and proven personal development teachings. He is a Level II Consultant in The DISC Model of Human Behavior and currently serves as the Director of Leadership Advancement  & Strategic Relationships for the Personal & Corporate Solutions Groups of John Maxwell Leadership.

 

Meet Lisa

Lisa Trosien is a multifamily educator, consultant, and strategist with over 25 years of industry experience. She is a frequent presenter for the National Apartment Association as well as presenting for the National MultiHousing Council, the National Association of Homebuilders, state and local apartment associations, and owners across the United States and Canada. Media outlets such as the Wall Street Journal, Chicago Tribune, Washington Post, National Public Radio, Self Magazine, Radio America, and CBS MarketWatch utilize her expertise. Lisa is well known for her meticulous research and strong presentation skills.
For More Information: