CAMT - Certified Apartment Maintenance Technician
---
Monday, June 13, 2022
at
9:00 AM (EDT)
to Friday, June 17, 2022 at 4:00 PM (EDT)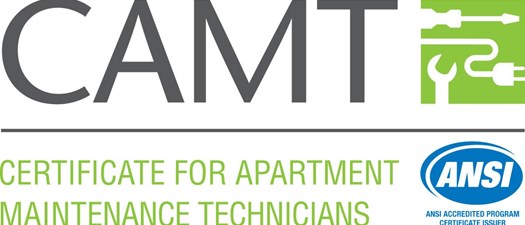 CAMT
Earning your Certificate for Apartment Maintenance Technicians (CAMT) validates your knowledge, enhances your reputation and credibility, boosts your confidence and earns you respect. The CAMT program is accredited by the American National Standards Institute (ANSI), a private non-profit organization that administers and coordinates the U.S. voluntary standardization and conformity assessment system.
You'll learn about:
Processing work orders correctly in a timely fashion, and to residents' satisfaction
Electrical services and repairs
HVAC services and repairs
Painting services
Construction services and repairs
Mechanical services and repairs
Appliance services and repairs
Lock and key services and repairs
Customer service and performing maintenance tasks according to company policy and procedures
Minimizing personal and property damage while safely performing maintenance activities
Fair housing regulation compliance
Environmental responsibility and regulatory compliance
Reporting and documentation of maintenance activities in compliance with company policy and regulation
Curb appeal, property inspection, and daily maintenance
Established procedures for maintaining recreational facilities and common areas
Implementation of a preventive maintenance schedule
Repair and replacement decisions
Professional behavior patterns, communication skills, and appearance
Clear and respectful communication with residents, team members, and contractors.
Requirements:
To obtain the CAMT credential, candidates must complete the following:
Minimum of 12 months of apartment or rental housing maintenance experience. (This can be obtained while taking the course, you will receive a provisional certificate until this requirement is met.)  
Successful completion of all CAMT coursework (totaling 80 hours)
Pass the exam within six (6) months of declaring candidacy
June 13 - 17 will be in-person training. Mornings will be learning and afternoons will be hands-on.
COVID-19 
AOBA is committed to connecting the industry in a safe and responsible manner.  All attendees must comply with the local CDC mask guidelines at the location where the event is held.
While an inherent risk of exposure to COVID-19 exists in any public place where people are present, AOBA is implementing this policy and other safety protocols to reduce the risk of exposure to and spread of the virus.  AOBA cannot guarantee the health and safety of all attendees due to the COVID-19 pandemic and, therefore, all attendees are choosing to assume the risk of COVID-19 exposure. 
By registering for this event, you agree to this waiver. 
We hope everyone will appreciate the focus on the health and safety of our attendees.
For More Information: