2019 Annual Golf Tournament
Monday, September 16, 2019  | Two Courses: Woodmont Country Club, Rockville
---
Monday, September 16, 2019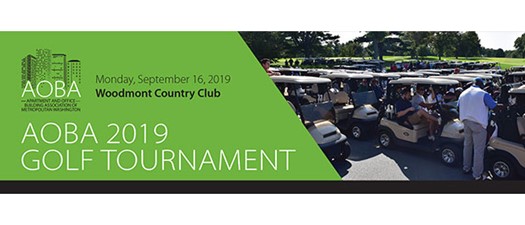 Register to join us for the industry's best tournament!
Enjoy a great day on the links as you connect with hundreds of your friends, colleagues, and associates at the annual AOBA Golf Tournament. The Tournament, held at the historic Woodmont Country Club on September 16, is an established industry highlight featuring friendly competition on a lush course. After an enjoyable day of golf, a premier networking reception and the awards ceremony feature a live band, open bar, food, and raffles.
Schedule of Events: Monday, September 16, 2019 | Woodmont Country Club in Rockville, Maryland.
9:00 A.M. Self Park / Registration & Breakfast, Clubhouse (Golfers, bring your business cards to registration)
9:00 AM - Practice Driving Range open
10:15 A.M. - Golfers, assemble in the cart area. New in 2019 - Golfer's scores are recorded and posted live until 16th Hole. Last three holes are recorded on scorecards.
10:30 A.M. SHARP Tee-off, Scramble Format and Best Ball
11:30 A.M. – 2:00 P.M. Barbeque Lunch
3:30 P.M. Tournament Ends/Turn in Scorecards – Deadline 4:00 P.M. SHARP
4:00 – 6:00 P.M. Clubhouse Patio
Open Bar beverages are available at the beverage stands along with the specialty contests and activities throughout the tournament.
*Both Captain's Choice (Scramble) format and Best Ball (Individual Ball) format (2 low ball score) are available for the tournament. You will indicate your selection when you identify your golfers. BEST BALL FORMAT requires a verifiable handicap (highest 14), via home course telephone number or legitimate handicap system, otherwise player plays to scratch. Handicaps are required only for Best Ball format choice; they are not used for Scramble.
Please contact Jeanne Clarke or call 202-296-3390, ext 761 with any questions.

2019 Premier Sponsors to Date:

A-1 Flood Tech | Acadia Windows & Doors | ACE Fire Extinguisher Service, Inc.
Admiral Security | Akridge | AOBA Alliance, Inc.
Associated Building Maintenance Co., Inc. | Blake Real Estate, Inc.
Borger Management | Boston Properties | Brookfield
Busy Bee Environmental Services, Inc. | Capitol Concierge, Inc. | Capitol Pest | The CBMC Group
Charm City Concierge, Inc. | Classic Concierge, Inc. | Constellation | Crocket Facilities Services
CRS Facility Services | Cushman & Wakefield | Direct Energy Business
EBM Executive Building Maintenance, Inc. | ECS Mid-Atlantic, LLC
Elevator Control Service | EMI – Executive Maintenance, Inc.
Espina Paving, Inc. | Ferguson Facilities Supply | Fetch Package
Fireline Corporation | Flynn Architectural Finishes, Inc.
Grady Management, Inc. | Hastings Architectural Restoration |Hoffman Architects
JBG SMITH | Jenkins Restoration | LAZ Parking | The Lenkin Company Management
Maintenance Warehouse | Manders Decorating Company, Inc.
Minkoff Company, Inc. | Open Market Energy | Owl Pest Prevention | P & R Enterprises, Inc.
Pioneer Building Services | Pritchard Industries, Inc. | Quality Air Services
Rainbow International Restoration of Oxon-Hill | Red Coats, Inc.
Securitas Security Services USA, Inc.
SERVPRO of Bethesda, Potomac & Washington, DC
SERVPRO of Rockville Olney | SOLID Surface Care, Inc. | SP+
Stuart Dean Company, Inc. | Toepfer Construction Company, Inc.
Total Quality Building Services | TRC Engineering
UG2 | Valcourt Building Services, L.C.
VITO Plumbing, Heating and Air Conditioning
Washington Gas | William C. Smith + Co.
For More Information: