2020 Maintenance Mania Practice
---
Thursday, February 20, 2020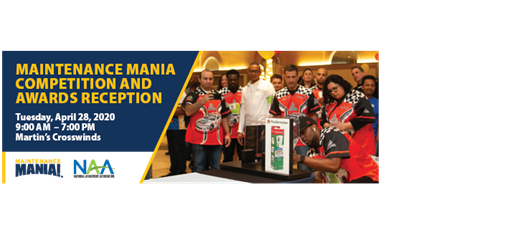 Meet your colleagues, practice the games, and get ready for the biggest maintenance event of the year!
At Maintenance Mania, Maintenance professionals compete in skill-based games built around common maintenance activities. The eight games to prove your maintenance skills during the Maintenance Mania competition include:
AO Smith Water Heater Installation
Queenaire Shock Treatment Setup
Fridgidaire Icemaker Installation
Kidde Fire & Carbon Monoxide Safety Installation
Kwikset Key Control Deadbolt Test
SmartBurner Heating Element Installation
Smart Comfort Air Conditioner Repair
Race Car Competition
The Maintenance Mania Committee hosts several practice sessions leading up to Maintenance Mania. These practice sessions include all 8 games.There is no cost to attend, but we ask that you pre-register so we know how much food to buy.
February 20th 2pm – 6pm
March 6th 8am – Noon
March 19th 2pm – 6pm
April 2nd 8am – Noon (Includes Judges Training)
April 16th 2pm – 6pm (Includes Judges Training)
April 24th All Day 8am – 4pm (Includes Judges Training)
We can't wait to see you there!

Sincerely,
Maintenance Mania Committee
For More Information: