AOBA welcomes Mario K. Salazar as the Vice President of Public Relations, Public Policy & Grassroots
AOBA is excited to welcome Mario K. Salazar as the Vice President of Public Relations, Public Policy, and Grassroots Initiatives. Mario has 13 years' experience in public affairs and managing regulatory and issue advocacy campaigns. He brings a combination of political engagement and grassroots advocacy
experience to the position having previously worked on several political campaigns including for Virginia Senator Mark Warner and former President Barack Obama. In addition to previous trade association experience, having worked as an External Mobilization Campaign Manager for the American Petroleum Institute, Mario's extensive experience includes working as a Senior Political and Community Organizer for the SEIU. Most recently he served as a Vice President, Grassroots for BCW Global where his work included managing public relations, regulatory, and issue advocacy campaigns for a broad and varied client base that included trade associations, technology companies, and some of the world's most influential brands.
Mario will be responsible for providing public relations direction and public policy support for AOBA's state and local advocacy efforts and managing the organization's grassroots initiatives. Mario joins Cynthia Alfaro, Manager of Communications and the expanded communications team will work closely with the government affairs staff to enhance AOBA's ability to communicate internally and externally on issues important to the membership.
Mario received his BS from Cornell University, his ALM from Harvard University and his JD from New York Law School. He is currently pursuing an MBA from the Duke University Fuqua School of Business.
"We are excited to have the addition of Mario, a seasoned grassroots campaign professional, to the AOBA team. This is a new role that was developed to address AOBA's growing communications needs and with Mario's background and experience, he will have an immediate and effective impact on AOBA's communication and messaging strategies" said AOBA Executive Vice President Margaret "Peggy" Jeffers.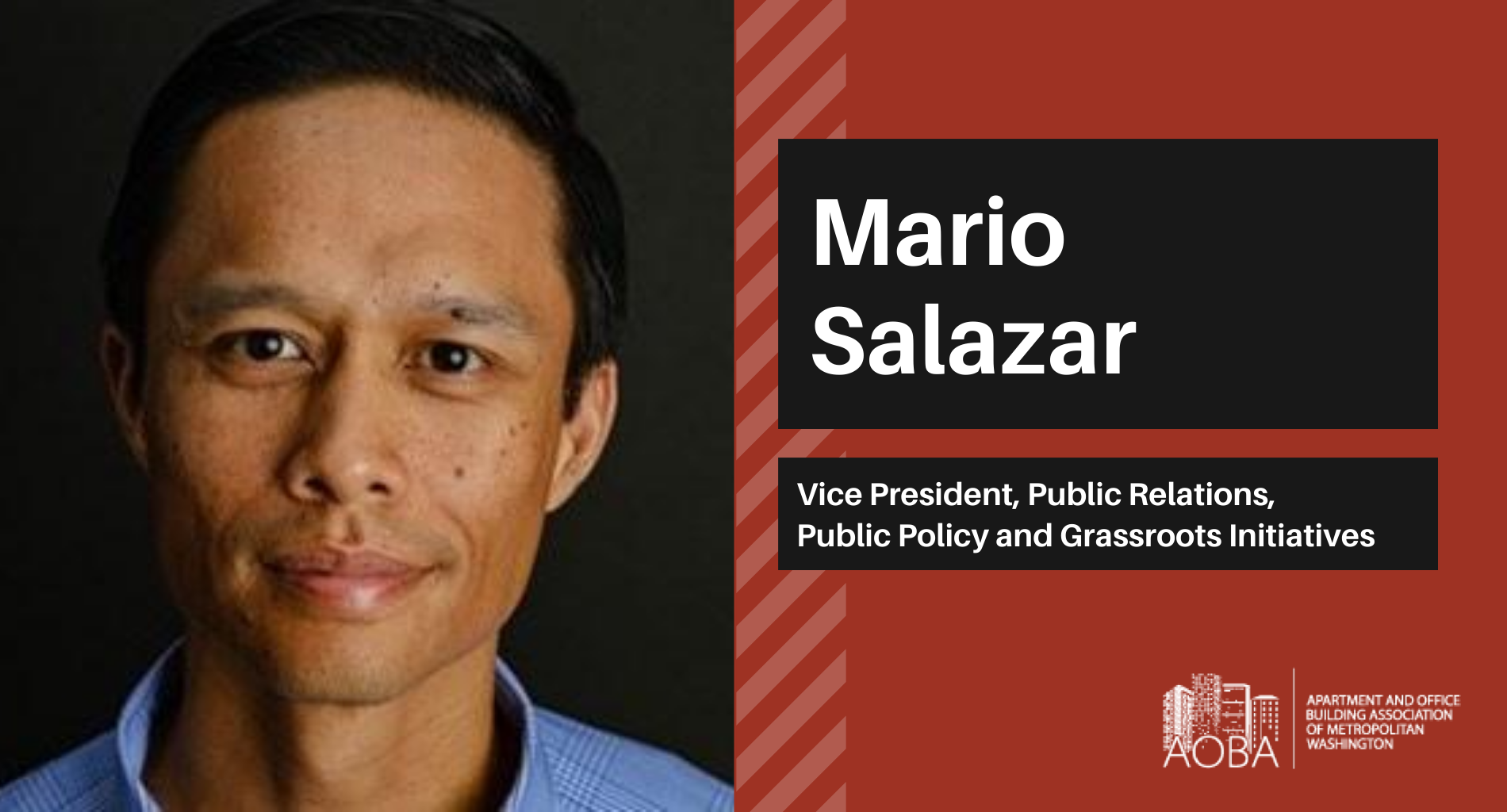 AOBA is the local affiliate of the Building Owners and Managers Association International (BOMA) and the National Apartment Association (NAA).