The TOBY Awards Celebration has been officially renamed the Commercial Awards Celebration. Members are invited to join colleagues each June for a celebration of commercial property excellence as AOBA presents three prestigious categories of awards.
Plan to join your colleagues for the 2018 Commercial Awards Celebration,
to be held Thursday, June 14, 6:30 to 9:30pm at the Fairmont Washington, DC.
Registration for all AOBA events is handled online only. Please remember that to receive the Member Rate for AOBA events, you need to take a moment to set up your personal online profile - and include your shipping address so you can receive INSIDE, our printed bi-monthly newsletter. And if your company is an AOBA member, you are automatically a member! Questions? Email Eliot Hubbell, ehubbell@aoba-metro.org
---
2018 TOBY Sponsors
Gold Sponsors

---
Silver

---
Floral Sponsor
Blake Real Estate, Inc.
---
Seminar Sponsor
Akridge
---
Bronze Sponsors
Brookfield
The CBMC Group
Classic Concierge, Inc.
Derick Associates, Inc.
Healthy Buildings
JLL
Total Quality Building Services
---
Patron Sponsors
Boston Properties
Flynn Architectural Finishes, Inc.
MRP Realty
Stuart Dean Company, Inc.
---
2017 Commercial Awards Recap
The 2017 TOBY Awards Celebration event was held on June 15 at the Fairmont Washington. More than 300 members were treated to a networking cocktail reception, dinner and presentation of the 2017 TOBY Awards, Commercial Engineer Awards, and K.E.E.P. Awards.
The following are 2017 local winners listed by award category:
100,000 – 249,999 Square Foot Building
Center for Strategic & International Studies, managed by CBRE
250,000 – 499,999 Square Foot Building
Crystal Gateway North, managed by Vornado/Charles E. Smith

Over 1 Million Square Feet
GRAND LOCAL TOBY Winner: U.S. Department of Transportation, managed by The JBG Companies

Renovated Building
Silverline Center, managed by Washington REIT
Historical Building
1101 17 Street, managed by Vornado/ Charles E. Smith
The evening also featured the presentation of the 2017 Commercial Engineer of the Year Award to professionals in three categories: Chief/Lead Engineer: Mike Keely, CBRE; Building Operating Engineer: Michael Morgan, Brookfield; and Maintenance Tech/Maintenance Mechanic: Charley Chavez, Boston Properties.

In a second annual addition to the TOBY program, the K.E.E.P. Awards were presented. Developed by AOBA's Emergency Preparedness Committee, this new award program is designed to recognize "Knowledge and Excellence in Emergency Preparedness."
Thanks to all of our generous sponsors, listed below, for making this event possible!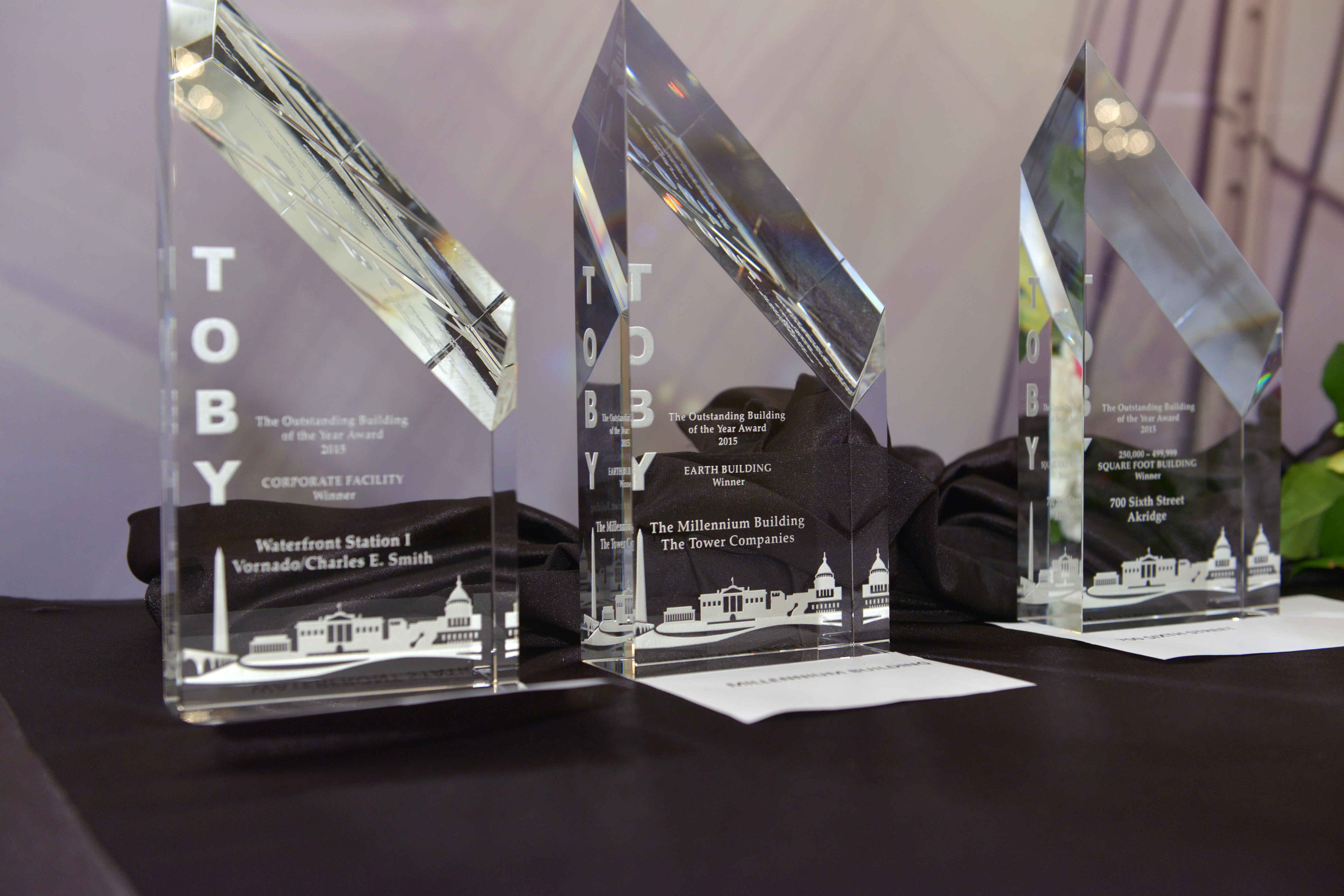 Registration for all AOBA events is handled online only. Please remember that to receive the Member Rate for AOBA events, you need to take a moment to set up your personal online profile - and include your shipping address so you can receive INSIDE, our printed bi-monthly newsletter. And if your company is an AOBA member, you are automatically a member! Questions? Email Eliot Hubbell, ehubbell@aoba-metro.org